1 minute reading time
(182 words)
Clintons' cat, Socks, dies
The AP reports that the Clintons' cat Socks died this past week.  Socks was 18 years old.  You may recall that Socks was the second pet the Clintons had in the White House together with Buddy the dog.  Buddy died in 2002 when he was struck by a car.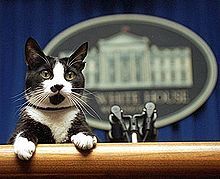 Socks and Buddy did not get along and they were kept in separate areas of the White House.  After the Clintons left office they kept the dog and let their longtime friend and secretary Betty Currie keep Socks.
The Clinton Foundation issued a statement on the dead of Socks:
"Socks brought much happiness to Chelsea and us over the years, and enjoyment to kids and cat lovers everywhere.  We're grateful for those memories, and we especially want to thank our good friend, Betty Currie, for taking such loving care of Socks for so many years."
According the the report Ms. Currie was "heartbroken" at the loss of Socks and she really loved the cat.
Our thoughts go out to Ms. Currie and appreciate the dedication and love she gave to Socks the cat!
Related Posts
By accepting you will be accessing a service provided by a third-party external to https://www.barkleyandpaws.com/