2 minutes reading time
(307 words)
Martha Stewart Halloween Costume Contest!
Halloween is always fun around our house.  We enjoy all the activity and especially seeing the kids coming to the door for treat-or-treats!  Now that our son is grown and moved away, we really enjoy the Halloween evening with our OTHER kids ... our pets.  Our two dogs really have a great time (okay they've never said they have a great time, but they sure look like the enjoy it!).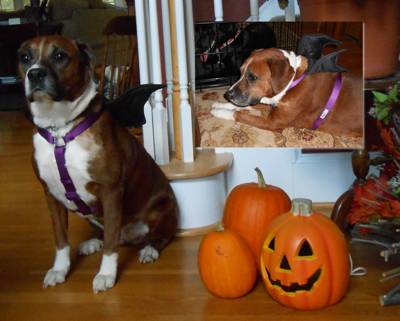 This year we are also going another step and putting our little Molly in a Martha Stewart "batwing" costume.  She really looks almost regal in this and it really fits her well.  She likes wearing it and the quality of the product is quite good.  Take a look at our little girl here and let us know what you think!
This year we hope the weather will be nice like it has been in the past.  We try to sit outside so that we can watch everyone approaching our home and greet them at the door.  Our dogs join us and are usually worn out once the evening is over.  One thing for everyone to watch for during and after Halloween is the candy.  Don't let your pet have any of the candy and especially chocolate and even worse, dark chocolate.  Depending on the weight and age of your dog just a small amount can potentially be fatal.
If you do dress up your dog be sure to post your pictures here and as a bonus, be sure and submit their pictures on the Martha Stewart website.  They are having a Halloween contest and will be posting pictures on their site (maybe your dog will be a star!) and one lucky winner will receive a basket of toys from PetsMart!  How cool is that! 
Here is the link to enter your pictures: Martha Stewart Halloween Contest Entry