1 minute reading time
(115 words)
Need help - Can you adopt this dog?
UPDATE: This dog has happily been adopted!!!!
UPDATE:  Some people came over last night to look at this dog and see if they wanted to adopt.  I'll update the blog once we know anything further...
------------------------------
This dog is so so sweet and needs a good home, the owners moved out of their house and left him behind.  He is believed to be a golden retriever/chow mix.  He really is a good dog.  Please take a moment to pass this along to your schools or whoever you may think of who may be looking for a new dog.
The contact number for more info. on this dog is 813-924-6170 or 727-492-0382.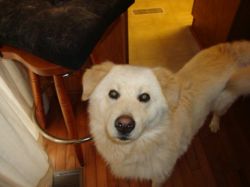 Thanks!