2 minutes reading time
(489 words)
A dog named Christmas!
We watched the Hallmark Hall of Fame movie, "A dog named Christmas" last night.  It is a heartwarming story about a runaway dog that befriends a family and teaches the father in the story to finally let go of his past and learn to love again. 
Its not that he doesn't care or love people.   The father in the story is portrayed as a loving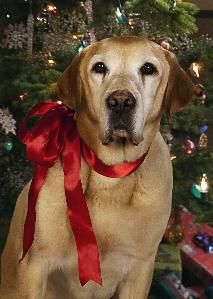 Dad, devoted to his family.  His problem comes from the loss of two dogs that were very important in his life.
The first is from his childhood and learns about the death of the dog while he is fighting in Viet Nam.  The second is the separation from a dog he finds and bonds with him while he is in Viet Nam.
The story is about the son who hears a plea on the radio for people to "adopt" a pet just for the Christmas holidays so that the pets will not be alone.  The son pleads with the Dad and with the help of Mom, he agrees to let them bring the dog home, but only for the holiday period.  The dog must go back December 26th.
Well I'll leave it to you to see the rest of the movie (I'm sure it will be on again and could become a Christmas classic).  It ends with a nice touch and of course, the quality of the movie is everything you would expect from Hallmark (even their ads are great).  Other than the SuperBowl its probably the only time I don't want to miss the ads!
I do have one question about the very end of the movie however.  There is a mention, by the author of the book, that Hallmark and petfinder.com are partnering together to do this same thing for the Christmas holidays this year.
I'm not sure I fully agree with this approach and I may upset some people with this statement.  Here's why.  Christmas is a stressful time for many people.  Not in a angry or otherwise bad way, although I'm certain that happens.  It is "stressful" through the anticipation of the season, the travel, the parties ... you get the picture.
Anyway, I'm not sure this is the best time to "adopt" a pet and besides, many people are not fully aware and educated into the work and expense involved in having a pet.  If the hope here is to get these pets permanently adopted, then there needs to be additional awareness for the potential owners.
Anyway - here at BarkleyAndPaws we promote and encourage "Responsible Pet Ownership" so for us it means that if these people are not screened and educated correctly, this could turn into a terrible mess. 
Let's all hope that end the end, good people will understand the love and joy of having a pet but also appreciate the commitment and expense involved in having one.
(Photo credit: Erik Heinila - Hallmark Corporate Website)
BarkleyAndPaws