1 minute reading time
(231 words)
Dog Beer!
Our friends at PetPalsDirect sent us the following story:
Dog Beer
 They say a dog is a man's best friend, why not share a beer?
I came across this novelty beer for dogs and I had to share it with others. I think it is a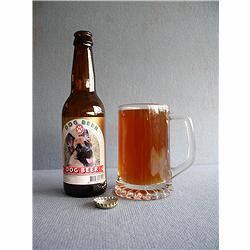 fantastic way of enabling your canine friend to join in at social events without causing any harm. The Beer is traditionally brewed from hops and barley, but with the alcohol and gas taken out. It contains beef extract to make it meaty and more appealing to dogs. At special gatherings for birthdays and weddings many pet lovers wish to share their treats and alcoholic beverages. Although most people   think they are being kind towards their dogs they could be potentially putting them at risk. Carbonated beverages can cause a condition called torsion in dogs, and beer is toxic just like chocolate.
Dogs always want what they can't have and beg if you have something that looks better than what is in their own dish. It is sometimes too hard to say no to those sorrowful puppy eyes but thinking long term it is safer to stay strong and buy the pet supplies that are a safer and healthier. There is a wide variety of novelty and human like treats available so your dog will never feel like it is left out of the celebrations.