2 minutes reading time
(411 words)
Tips and tricks for grooming your cat
Most cats are perfectly capable of cleaning themselves. Despite this, you need to do what you can to keep them clean and healthy. Proper grooming is critical in order to avoid fleas and ticks making their home on your cat. It's also the best time to check for blemishes on your pet's skin. Read the following for some strategies to make your cat look even better with proper cat grooming.
Before you start grooming, the required pet grooming supplies should be obtained to help make the job less difficult with an improved outcome. Shop for items such as a comb, brush, grooming scissors, and cat grooming glove. Each of these items should be made specifically to groom your cat.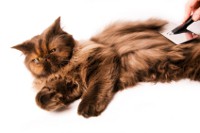 To keep your cat looking good, you will need to groom her regularly. By combing and trimming the hair regularly you will both be able to enjoy the benefits of a well groomed cat. You should use a brush that has a lot of small pins when grooming your cat's hair. For brushing to go more effortlessly the head ought to be fairly small. Brushing your cat in the direction of hair growth is the proper grooming method. Otherwise, together with several scratches, you will likely have a furious cat to contend with.
Grooming your cat does include the occasional bath. While the use of a towel will keep her as calm as possible, the use of a carrier will make the job of bathing easier. Pick a cat shampoo with a rich lather. It should also be able to remove dead, itchy skin, and thus make your cat more comfortable.
When grooming a cat, an important part is to keep the cat's hair from becoming mangy and matted. If your cat's hair is naturally long, give it a hair cut frequently with a professional pair of grooming scissors and grooming comb. Your cat's skin is sensitive so ensure you don't puncture or scratch it.
Not only will shedding be decreased, but brushing will be less challenging and smoother through the use of cat grooming gloves. A pair that's machine washable is best. You ought to also be able to utilize it to eliminate that unwanted cat hair that gets everywhere.
Good grooming tools can mean the difference between a well groomed cat and a mangy looking one. The tools you use for grooming should be utilized in a way that makes the experience calm and pleasant for your cat.
Related Posts
Comments
No comments made yet. Be the first to submit a comment
By accepting you will be accessing a service provided by a third-party external to https://www.barkleyandpaws.com/