3 minutes reading time
(686 words)
Cat bed training - What are the steps needed?
Some individuals are pleased with their cats to fall asleep on their beds, sofas, ironing pile or even the laundry basket and as long you do not mind collecting all the hair there is no concern.
Others may be worried about fleas and tick being moved to mattresses. They feel that respiration troubles may be worsened at night with pet cats having a good sleep in the same place as you.
It could just be that you have bought a new cat bed however your cat is neglecting to use it. It is also great for the cat to get a specific space of their very own, somewhere where they can go and know they won't be troubled.
No matter what the reason why, you will need your cat to settle on their very own cat bed because teaching them to do this is easy and straightforward to carry out.
Choosing a Cat Bed
In the event you haven't by now acquired a cat bed you'll need to get one, but if you are tight on budget or just want a temporary bed, a cardboard box that has a folded towel will also work.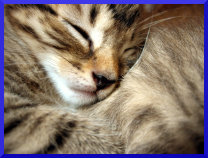 Before you do purchase one, attempt to work out what it is that your cats adores sleeping in the place they slumber currently, do you like to be covered so crawl under the duvet, do they sleep off the ground, will they like a lot of padding directly below them? These questions can help you find out whether or not they would prefer a covered cat bed, whether elevated cat bed could well be valued and decide how important cushion thickness is.
Also think about the area of where your cat likes to sleep since this will be the same place you place the cat bed. Location of where they rest is essential to them; they will choose location over other elements like warmth and luxury. So if this spot is somewhere that you'll often see them, it's critical that the bed is a style that suits you and fits along with the rest of the dcor.
How will you get them to rest within their new cat bed?
There are some actions you can take to create their new bed more inviting for your cat, first of all allow it to smell more like home. Whether the cat bed has come from a retail outlet or a stockroom it is going to smell different in their mind, so it's not going to be attractive for them to sleep in. Add something in your own home that has the scent of you just like your apparel or bath towels. Additionally add your cats' toys. Because your cat has in the past chewed these toys they have their scent on them. Another reason for carrying this out is that if they want to play with them they will have to acknowledge the brand new bed.
If these things alone aren't getting your cat's interest to look into the bed within 24 hours then make it their brand new sleeping place irresistible to them.
Cats are definitely watchful creatures, if you go and faff with the bed, they'll need to know what it is, if you're lucky they've venture over to it to examine. If you can find your cat to interact together with the bed provide them with lots of positive reinforcement like affection, soothing words and treats.
If they're continue to be ignoring the bed, go stand with it and call your cat over, spend time petting your cat while you're both close to the bed. If the cat has a much-loved little toy roll it around the cat bed to motivate your cat to climb in and pay attention to what it really feels like below their paws.
If the cat is affected by catnip you may spray the bed lightly with catnip to create the place seems more inviting.
It is vital that you find the appropriate location for the bed, make it smell like you and them and expose them to it without any pressure in any way.
Comments
No comments made yet. Be the first to submit a comment