1 minute reading time
(296 words)
Finding the perfect personalized dog collar
One thing is for sure, you will be able to find just the right personalized dog collar for your dog, as they come in so many different shapes, sizes, and designs.
You will find that having a beautiful personalized dog collar will look great - it can also prove to be an extra safety measure as well if you put your contact details onto the inside of the collar. You don't need to buy those pretty ugly metal discs that we have all been used to for years. If you don't want to put your details on the inside of the collar, you can even buy a collar tag that matches the design of the collar. How cool is that?
The amount of personalization will vary, and it can be as simple as choosing a webbing collar with a nice background, then having your dogs name printed onto this in a contrasting or a matching color, or it can be as fancy as you like.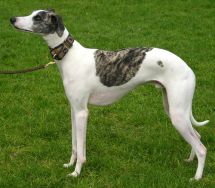 If you have a female dog then how about a beautiful feminine glitzy collar in pink which can then be set off with gorgeous shiny gems. How proud do you think she would be to walk around wearing a collar like that? For a male dog, you can have his name emblazoned with silver studs. He will look really cool.
If you wanted a slightly simpler design, then you can buy a webbing collar which has a good choice of colors and patterns available. You could then have his or her name printed onto the collar in a suitable color.
Any dog is going to love wearing a nice new personalized dog collar, and think how great you are going to feel when you take him out for his walk.
Comments
No comments made yet. Be the first to submit a comment