3 minutes reading time
(624 words)
My dog bed adventure
When I got my first dog, I thought getting all his gear would be simple and straight forward; dog bed, grooming kit, food, lead, collar, you know, the usual stuff. But unfortunately, it didn't turn out this way. In fact, it was much more complicated. I guess like everything these days, there's a choice to be made. The same goes when buying bits for your pet dog, which until recently, I didn't realize.
Let's take the bedding for example. I just wanted a dog bed, something that was sensibly priced that was going to provide my new four-legged friend a comfortable and warm place to get some sleep. I pretty much had a good idea in my head of what I was going to go for; something with soft sides, but deep walled. He's an Alsatian so it had to be reasonably big too. But apart from that I also wanted something that was going to last a while, quality at a reasonable price is what I wanted.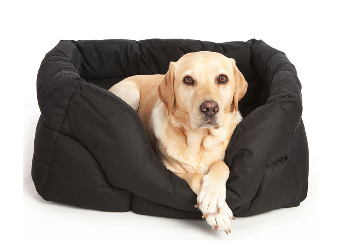 I started my hunt at the local Sunday market, you can pick up a simple plastic dog bed for £5 or a soft mattress or 'donut' type bedding for between £15 and £20. Reasonable, I thought, but again I just knew I'd end up getting it home and it would be ruined in a matter of weeks. Having also tried some of the big household brands and not thinking much about the range I decided I'd take a look online at some of the other online doggy retailers.
It was at this point I started to realize that my search for something that I originally thought was seemingly simple turned out to be far more complex. I come to the realization that my own personal choice of dog bed had been somewhat more emotionally involved than I first originally thought. I didn't settle for the poor quality, cheapy market beds, I didn't want the run of the mill bedding that my local household brands offered, I wanted something more, special. But, at a reasonable price.
I typed in 'dog beds' in a search and started wondering my way through the results, browsing and perusing the choice, which, I came to realize, was far greater than the local pet supermarket or my Sunday market (here are a few websites that I looked at here and here). Suddenly I had been exposed to all sorts of dog beds; luxury, designer, waterproof, heavy-duty, I hadn't realized quite how many beds there were on offer!
In the end, I settled on a well-priced designer dog bed that cost me the same price as a rubbish one from the local market would've cost, but was a far superior quality. As an added bonus, my wife was pleased because apparently, the bed's aesthetics (which by my own admission does look fantastic) fitted ideally with our lounge décor. I'll just have to wait and see what she says when I move it to where I really want it to go!

It's quite obvious that canines love their mattress. Hence it is important than ever to get the mattress with the right thickness. Dog owners can typically look for the best 12-inch mattress and it's often that dogs prefer air foam or memory foam mattresses as they offer more plush and flexibility than traditional spring mattresses. 

At the end of my doggy bedding adventure I had set out to find something specific with specific requirements in mind, which I achieved, but what I did was look around and didn't jump straight in with whatever I could find first. Get yourself online, go hunting around, compare prices, check reviews and you'll find yourself with much better quality dog products at a much more reasonable price.
Comments
No comments made yet. Be the first to submit a comment