3 minutes reading time
(547 words)
Buying Boston Terrier puppies from a breeder
Boston Terriers have a lot of personality. They are intelligent, alert, well-mannered, and gentle. Some, however, can be a little willful. Perhaps their willfulness comes from the fact that Boston Terriers were originally bred for fighting. That is why if you want a Boston Terrier for a pet, it is always an excellent idea to get one while they are still young.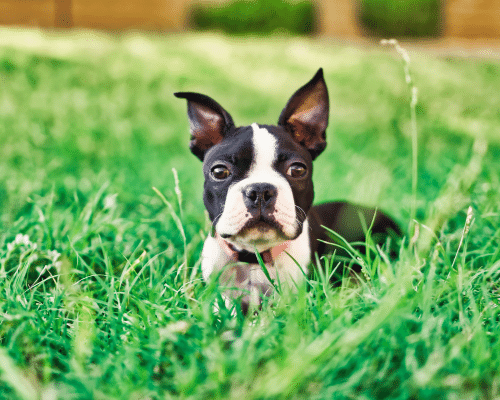 You have to be organized and methodical in your quest to find the best Boston Terrier puppy for you. When you buy from the best breeder it means that you are getting a Boston Terrier puppy that is healthy and has a well-rounded personality. Aside from that you also have to consider the financial implications of having a puppy.
Boston Terrier puppies hate being left alone. They love constant attention and care, which will be very hard for you if you don't have the time or you're not that willing to put in the time needed to raise this puppy properly. They also have health problems, so you will need to give them ample interest to make sure that they grow up healthy.
Because there are a lot of resources today, you will be able to enjoy looking for materials for your Boston Terrier puppy. Training them won't be that hard, since this breed is uncannily intelligent and alert. They are very keen to learn and have great personalities.
Alas, the Boston Terrier's personality and temperament also depend on where you got your Boston Terrier puppy. There are a lot of Boston Terrier puppies for sale, but you have to be careful in finding the right pet shop, dog breeder, or online store. Try to avoid puppy mills because they only breed dogs for money, they don't care whether the dog is healthy, and most often they break animal rights laws. Before you pick a place to buy, make sure the pet shop, breeder, or online store has excellent references. Ask your local kennel clubs about their knowledge on where to look for Boston Terrier puppies for sale.
A good sign that the seller is a reputable one is them showing that they really care by taking their time to interview you and making sure that you are suitable enough to take care of the dog. Breeders and pet shops that immediately sell you a puppy might just be in it for the money.
If you want to find Boston Terrier puppies for sale in pet shops, keep in mind that you have to be sure that the dog comes from a good breeder or private owner. Ask the person in charge whether the Boston terrier puppy was given vaccination and deworming shots. Also, don't forget to inquire about the pedigree papers.
Wherever you may choose to get Boston Terrier puppies for sale please simply remember to do your part and research. You want a pet shop, or breeder who cares and will constantly follow up about the puppy.
If you have a Boston Terrier would you share that with us in the comments section below?  Maybe you can help someone else who is looking for information before they adopt a dog.  Tell us anything we should be aware of before adoption such as temperament around other pets (cats) as well as around young children.
Comments
No comments made yet. Be the first to submit a comment