3 minutes reading time
(556 words)
Everything you need to know about your Beagle puppy
There are few things cuter and harder to resist - than a new litter of Beagle puppies. With beseeching eyes and ears that are much too big for their bodies, it is no wonder that the Beagle has maintained its popularity for many years. However, like any new pet, you need to know what you are getting into before you bring that adorable bundle of fur home from the breeder.
There are positives and negatives to owning a Beagle, and it is best to educate yourself to both of them so that you are completely prepared to raise that pup into the perfect family pet. By planning ahead for the arrival of your Beagle puppy, you will be better able to handle those challenging early months when the bulk of your training will take place. And meeting those puppy challenges head-on will help to ensure that your Beagle grows into a furry member of your family that everyone will enjoy.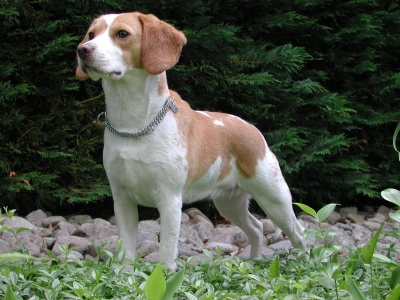 When you are looking at a litter of Beagle puppies, it may seem close to impossible to choose just one adorable face from the bunch. However, taking the time to select properly will make a world of difference in whether your puppy training motors along at a reasonable pace or meets up with many roadblocks along the way. Once you have chosen the right puppy for your family, the training will begin almost as soon as you put the little fur ball down in the entryway of your home.
Beagle puppies are natural pack animals, and will want to determine their place in their new pack with your family. You need to establish yourself as the leader of the pack, and the sooner you can do that, the better! Keep in mind that Beagles do not respond well to punishment training, however.
There are some guidelines to follow to ensure that you do not end up with the most aggressive or the shyest dog of the bunch. By selecting a dog with a moderate temperament, you will find that your training process will go a bit smoother.
The careful selection of your Beagle puppy is the first step in a family pet that will be trainable and lovable. Look for a dog that is neither the first to approach you, since these will be the boldest and most headstrong of the bunch, nor is last to check you out, since these shyer animals may grow up skittish and have a tendency to snap. Beagle puppies that mill around your feet and nibble on your fingers are generally good choices for your new pet. Watch for signs of aggression and fear, and avoid those types of dogs.
Shy dogs are also not a good choice for most, since fear can cause some of these pups to have a snapping issue. Stay away from those Beagle puppies that run from you or approach with their tails between their legs, no matter how tempted you are to take one home to "bring him out of his shell". There is a good chance that you would not succeed. Some breeders can help you with the process of selecting your dog as well, if you let him know what type of pet you are looking for.
These are generally the best dogs to select as family pets in a bustling household.
Comments
No comments made yet. Be the first to submit a comment