2 minutes reading time
(436 words)
Havanese puppies: The perfect pet for families
So many people are beginning to recognize just what a wonderful addition Havanese puppies can be to a family. These fiercely loyal and overtly affectionate dogs are the perfect size for apartments and small homes and their mild temperament make them perfect for families with children. If you have been looking to add a new dog to your family, or if you just have a love for small breed dogs, then you absolutely cannot go wrong when choosing a Havanese.
There are several things that you should watch for when choosing Havanese puppies, not the least of which is to make certain that the breeder you choose from has taken excellent care of their puppies. You can do this primarily by first getting recommendations from vets in the area where your breeder is located, and second by insisting on seeing documentation of medical care for the Havanese puppies in question.
One of the things that makes Havanese puppies so popular among people who live in small houses and apartments, is the fact that they can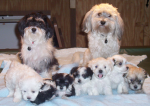 actually be trained to use litter boxes, just like cats.
Also, these dogs require quite a bit of love and affection, as they are by nature a fiercely loyal and affectionate dog breed. Any sign Havanese puppies may show of being leery of humans may be a sign that they have been mistreated.
If you are buying Havanese puppies from a breeder or owner in your local area, it is a good idea to ask your local veterinarian if they have ever treated these puppies by giving them their shots, treating them for worms, and the like. If you are purchasing a Havanese puppy from an out of state breeder, be certain to ask for proof that the puppies have been well cared for.
Choosing the right puppy is a very simple process once you have ascertained that the Havanese puppies you are choosing from are healthy. The best way to choose Havanese puppies is to, if at all possible, visit the breeder's kennel or owner's home so that you can interact with the pups before you make a final decision.
Havanese puppies are quickly becoming more and more popular around the world as people begin to better understand what was once a little known breed.
These small dogs have fought and survived extinction, and are quickly proving to the world that what they may lack in size, they more than make up for in heart! Look into purchasing one of the many beautiful Havanese puppies available today, and see just what a wonderful addition they will make to your home.
Comments
No comments made yet. Be the first to submit a comment