2 minutes reading time
(404 words)
Choosing the Best Dog Groomer for Your Pup
Choosing the best dog groomer for your pup is essential to maintaining its comfort and health. Whether you just got your dog or you've had one for some time, choosing the right groomer can be tricky. Not all groomers have apprenticed under someone more experienced or understands the needs of every breed. So, how do you find the right one for you?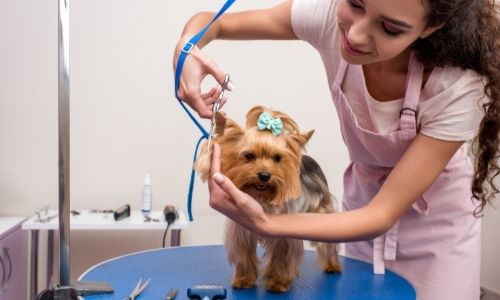 Keep an Eye Out for Well-Groomed Dogs
The first thing you can do is keep an eye out for dogs who already look well-groomed. If you like the haircut of the adorable husky at your local dog park, don't be shy about asking their owner who groomed them. Word of mouth is often the best way to discover hidden gems and excellent groomers in your city.
Check for Quality Certifications
Once you get some good referrals for groomers, it's wise to look at their website for certifications and grooming licenses. There aren't any universal standards for pet groomer certifications. At the very least, there should be a certification or two on their website.
Certifications show that the groomer went further to learn about their craft even though they didn't have to. Don't overlook the crucial detail of someone going the extra mile. If you don't see a certification on their website, consider calling and asking about their credentials and experience.
Check the Skills and Tools of the Groomer
Pay particular attention to the atmosphere and equipment of the place you take your pet. Is the shop clean? You shouldn't see any dirt, grime, or excessive fur on the floor. Some fur on the floor is normal, and anxious animals have accidents during grooming, but the groomers should actively clean the area throughout the day.
Equipment is another consideration. Do their stations have a wide variety of shampoos? Every dog is different. For instance, some need medicated shampoos for skin conditions, and others need eye-safe shampoos. Tools are also a factor since they determine the styles a groomer can give your dog. Dog grooming requires many different types of shears, on top of various brushes and even electric razors. Inspect the workstations for tool variety or ask what tools they'll use to achieve your desired look.
These are just some ways to help you choose the best dog groomer for your pup. Ultimately, it's much easier to pick a professional groomer to meet all your pets' needs with these fundamental points in mind.
Comments
No comments made yet. Be the first to submit a comment