3 minutes reading time
(532 words)
How to give a Havanese a haircut
Closely related to the Bichon Frise, the Havanese are a beautiful and playful little dog of the toy variety. These dogs have quickly gained in popularity at dog shows and competitions since the 1970s, and the AKC has responded with a very specific set of guidelines relating to the way owners give their Havanese a haircut. Not only do these guidelines cover which hair should and should not be cut on your Havanese, but also how long the hair should be, as well as to what should be used to cut it with.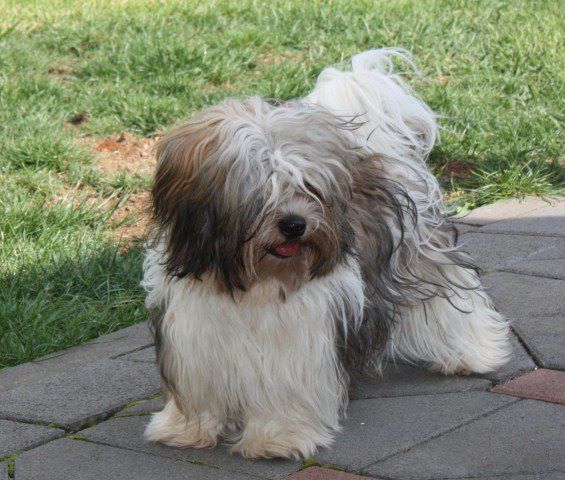 A Havanese haircut needs to be done with either a number 40 blade (in a pair of clipping shears), or a small pair of grooming scissors. Typically the only hair that should be cut is the hair around the paws; and even then, only just enough to give the paws a more circular shape. Depending on the show you are entering, you can also clip the hair around the rump area and even the hair inside the ears.
One of the first things you need to know about giving your Havanese a haircut is that you should only trim the hair on the paws (to give them a more circular appearance), and the rump and groin area. Trimming the hair on the face and ears is strictly forbidden if you want to enter your dog into champion competitions.
Havanese by their very nature do not shed, so brushing them daily is important to keep their coats free of any loose or damaged hair. Brushing daily as a part of your Havanese grooming routine will also help to keep their coats nice and shiny.
If you do decide to give your Havanese a haircut, it is important to remember to only use a number 40 blade in your clipping shears. This will help to prevent the fur around the paws from being clipped too short. If you do make a mistake, simply trim around the affected area carefully, to help restore the round, desired shape. A small pair of trimming scissors may be used to clip the rump and groin areas, but be sure that you adhere to the rules for length.
The most important part of giving your Havanese a haircut is that you remember to stay calm throughout the entire process. Toy dogs are by their very nature, much more playful and energetic than larger breeds of dogs and can therefore become quite rambunctious during the grooming process. Soothing them quietly with your hands and voice prior to attempting to give your Havanese a haircut, will help to ensure that the process goes much easier for you both.
Giving your Havanese a haircut doesn't have to be a difficult process. The most important part of grooming your Havanese - whether brushing, bathing, or giving your Havanese a haircut - is to go about it in a calm, and reserved manner.
This will help to give your dog more ease about the whole process, and help them to stand still during the clipping process. As long as you can remember to stay calm, giving your Havanese a haircut can be a relatively simple and easy process.
Giving your Havanese dog a haircut
Comments
No comments made yet. Be the first to submit a comment