3 minutes reading time
(602 words)
Proper Havanese puppy cut
There is much to understand in terms of caring for your Havanese puppy, including everything from their history to their grooming. The Havanese were not bred in the United States until about the 1970s and it wasn't until 1991 that the AKC recognized them. While the Havanese do make great show dogs, they are also wonderful house pets, ready to love and please the people around them.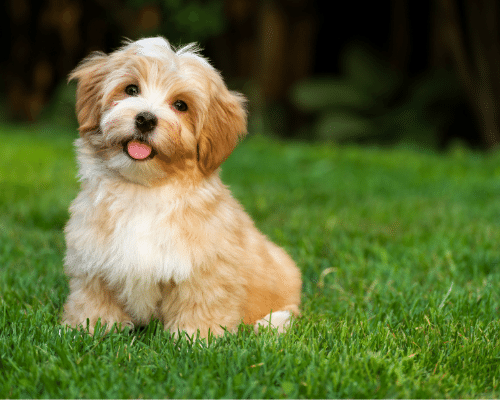 But, for those not prepared, Havanese grooming can be somewhat of a shock if not properly informed ahead of time. The ideal Havanese puppy cut is a shortcut and is best for those who do not plan on putting their dogs in shows, as this serves as the most practical choice in making it easier to brush and maintain the puppy.
The last thing anyone would want is for their dog's hair to get out of control, matted, and then shaved. If you want to achieve a happy, well-trimmed, and beautiful dog, then the Havanese puppy cut is one to consider.
Many people miss the fact that good grooming habits for your dog start at the very beginning,... actually from the moment you bring your puppy home! It is important that you brush your dog at least three to four times a week, even if they have the shorter Havanese puppy cut. For those who keep the hair on their puppy's hair longer, they will need brushing daily, although these are mostly people who enter their dogs into shows, as this long hair look is required for them.
Even with the shorter cut, you will want to keep up regular brushings.  This promotes the new growth of hair. It also helps your puppy's skin and coat when you brush them, as the natural oils that are produced are spread about. Grooming your Havanese will also allow you the chance to inspect your dog's skin condition. Whether there is a wound or fleas, these problems will need to be addressed quickly. With the Havanese puppy cut, you will still want to brush them three to four times a week.
Knowing now that proper grooming is essential for a happy and well-trimmed dog, having the skills to actually achieve it is another matter! It is not hard at all but there are a few key tools that every owner of a Havanese should have on hand, whether they have the Havanese puppy cut or not. Every house with a Havanese should have:
a flea comb,
a pin brush,
a small soft slicker brush,
and of course a combination comb.
With these tools, you will be able to keep your dog's Havanese cut in tip-top shape.  Regardless of the type of cut or the longhaired look, it is vital that you have the proper grooming tools so that you can your grooming task easier and less stressful for your dog.
These are just the basics to have on hand when you are ready to bring your Havanese into your home and life. Also, make sure you have your puppy on a stable table that has either a towel or mat on it to stop any slips or falls from happening.
Grooming your pet can be very satisfying - for both you and your pet.  They especially love being brushed and it encourages a "warmth" between you and your pet that lets them know just how much you truly love them!
Let us know if you have a Havanese and what kind of cut you have on your dog!  We know that whatever you do it is just right for your dog and both of you just love it!
Comments
No comments made yet. Be the first to submit a comment