4 minutes reading time
(715 words)
Choosing the right lumber for a dog house
Owning pets involves a lot of different responsibilities, but not all of them are troublesome. If you enjoy working with your hands, the need to provide your dogs with shelter can be a positive pleasure. Building your own doghouse is a great do-it-yourself project that doesn't require a lot of complex tools. You need to make smart choices when you're picking out your materials, though.
The Case In Favor Of Wooden Doghouses
Wood is still one of the leading choices for building a doghouse, but these days it's being sorely challenged by plastic. Wood is still the best material, though, especially if you intend to construct your dog's new home personally. Although plastic panels can be incorporated into a home-built dog house design, they're much more difficult to work with than ordinary lumber.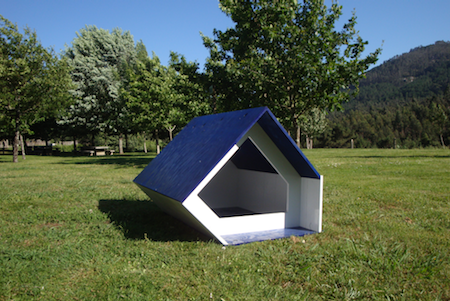 Using quality, exterior lumber makes an outstanding choice for building a durable house that can keep your dog healthy and comfortable. With the right lumber and the right design features (see below), a basic home-built doghouse should stand up to a wide range of climates; special construction techniques are only required in the very hottest and very coldest regions.
Great Lumber Choices
If you hit Google and start looking for doghouse plans, the initial instruction you'll run into over and over again is "Use plywood." This is all well and good, but you need to bear in mind that all plywood is not created equal! Look for exterior-grade plywood that's at least 3/4" thick. Cedar is ideal here, but other durable hardwoods are also acceptable.
It used to be that treated pine wasnít a good choice because of its chemical composition of it. But that ís different from the treated pine of today. It is safe for humans and animals to be around, even for lengthy times.
The same caution goes for the basic 2x4s you'll need to frame your doghouse. Cypress, fir, or Cedar should be some choices to make. This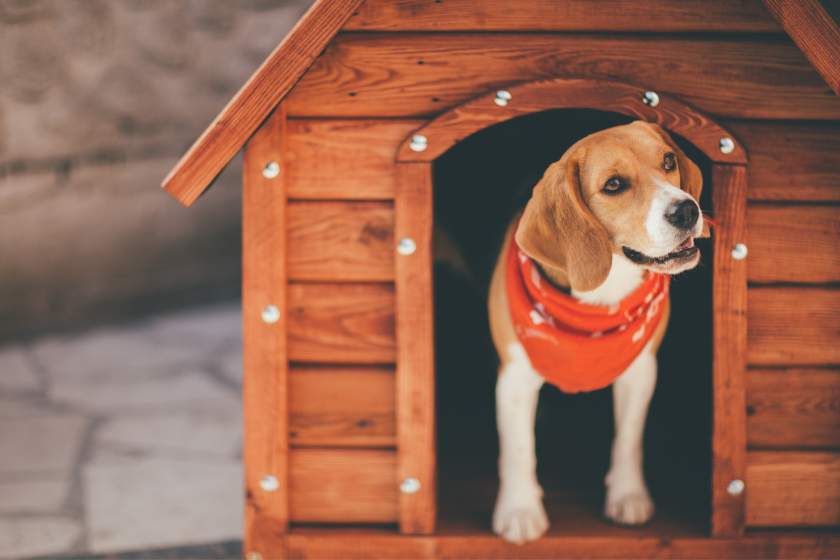 is because these lumbers are naturally resistant to mold, rot, mildew, and insects. It also holds up well to moisture, making it ideal for most climates. It ís more than just keeping the water out. It is about keeping the insects and mold away, and keeping your pet as comfortable as possible.
If money is no object, consider building your doghouse with siding boards rather than plywood. This type of doghouse will be virtually indestructible. A siding house is also great for warmer climates; you can leave small gaps in the walls to provide added ventilation.
You'll pay a little more for quality hardwood building materials like cedar, but the greater lifespan of this lumber easily justifies its higher price. If you slap together a doghouse out of bargain-basement pine 2x4s and interior plywood, you're going to get plenty of opportunities to practice your carpentry skills; you'll be building a new doghouse on a regular basis!
For the frame of the roof, it is similar. Exterior 2x4ís and plywood. Shingles can be the actual roofing material, and just a few are very cheap to buy. You may even have them laying around from the previous roof you had added to your home.
Advanced Wood Products: Do's And Don't's
Of course, your modern home improvement center is stuffed to bursting with technologically-advanced building materials, and that includes treated and engineered wood products. You need to exercise some caution before choosing to go the high-tech route in your lumber selections, though.
Engineered wood (typically composed of lumber scraps fused together with resins or other adhesives) can be harmful. Some brands are completely safe, but others may contain chemical additives. Ask the specialists at your local hardware store about the chemical content of a given piece of engineered lumber or research it online. It may be worth the trouble to do this homework because engineered wood siding is some of the toughest, longest-lasting materials available to you.
Obviously building a long-lasting dog house is going to require a little bit of craftsmanship on your part. Even the most talented carpenter can't produce great results without reliable raw materials, though. Take the time to select your lumber carefully and you should end up with a doghouse that serves your pet faithfully throughout its lifespan.
Image By Dogwizz - Own work, CC BY-SA 3.0, https://commons.wikimedia.org/w/index.php?curid=33461699
Comments
No comments made yet. Be the first to submit a comment