2 minutes reading time
(411 words)
Common Red Flags When Choosing a Dog Daycare
Your dog is a special part of your family, and that means you can't leave them with just anyone when you go to work. Daycare is a great way to ensure an active dog gets enough exercise, and it helps you relax knowing someone is taking care of your dog while you're away. Pay attention to these common red flags when choosing a dog daycare so you can avoid shady businesses that might harm your pup.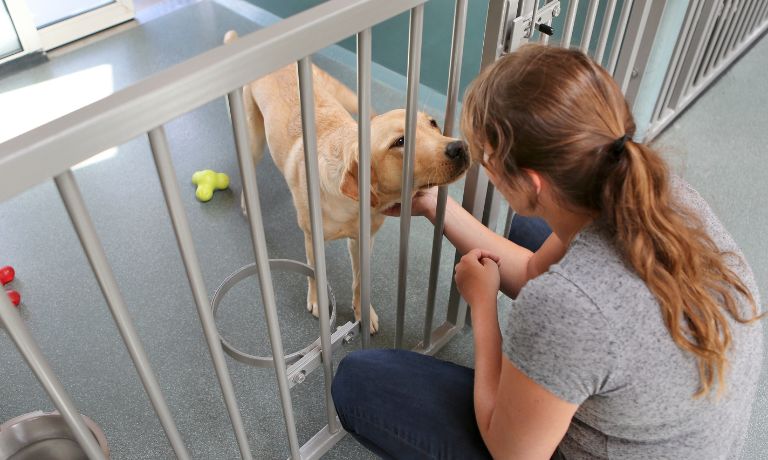 It Doesn't Look Clean
Never leave your dog at a dirty facility! While all dogs make messes, it's the staff's job to clean up after their four-footed clients. A dirty daycare is a sign that the business may be understaffed, which increases the chance of accidents and negligence.
The Dogs Don't Look Happy
If the other dogs at the daycare don't seem to be enjoying themselves, that's another sign you may want to take your business elsewhere. A good daycare will provide activities and rest time tailored to your dog's age and energy levels. If the animals look stressed, bored, or are constantly fighting, they're probably not getting individualized attention from the staff.
The Staff Don't Look Happy
Usually, people who work with animals do so because they love it, and that love is what drives them to take good care of the animals in their charge. If the daycare staff doesn't look like they know how to handle dogs or even seem indifferent to them, that's a sign it's time to leave.
Your Dog's Behavior Changes
A sudden change in behavior is a common red flag when choosing a dog daycare that your dog did not enjoy the experience. Changes in behavior include shyness, lethargy, and fear around people and activities that should be familiar. While it isn't always a sign of mistreatment, it does indicate that this daycare's services are not right for your dog.
Lack of Transparency
If a daycare won't let you look around their facility or seems cagey when answering questions, they may have something to hide. While there are regulations for running large dog-watching operations, smaller businesses may be able to get away with fewer inspections. If they avoid certain topics or look like they're trying to hide something, then they probably are.
Your dog is family, and that means they should get the same respect and care that you would give a family member. Follow these tips to avoid leaving your dog with someone irresponsible or negligent.
Comments
No comments made yet. Be the first to submit a comment