3 minutes reading time
(512 words)
Discover excellent dog pain relief tips
How many of you have dogs in a middle of some canine crisis? Your beloved pet listless and whining cannot be an easy thing to witness I'm sure. Perhaps you've asked many of your experienced dog owner friends-what can I give my dog for pain? There must be something that can be done for the poor animal. Well, here are tips and helpful information to educate you on some dos and don'ts in canine pain management.
Arthritis is a very common cause for dog pain. As you may already know, arthritis usually occurs when your dog gets older, although younger pups sometimes do acquire this unfortunate condition when they sustain an injury to their limbs. To minimize its effects, maintain his optimum weight and feed him the right food daily.
Involve your dog in exercise but stay away from sports that are too rough and extreme in nature. Frisbee, for example, is way too hard on his joints. Opt for a light jog or swimming instead. Swimming widens the scope of his movements, and dogs love water also. If you have a smaller dog, fill a plastic pool or even a large tub with water and have him play around in it for a few minutes each day.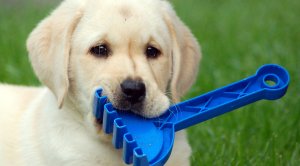 A quick technique to serve up dog pain relief in the canine's neck and shoulders is to simply elevate their food and water bowl to a more manageable level. Sounds simple but it really works wonders for the dog's general comfort. Make their home as livable and cozy as possible by furnishing it with a few layers of blankets he can snuggle in for damp days. It will be heaven for his joints.
Inflammation is a common source of discomfort that canines have. Alleviate the pain that this brings by putting a cold compress on the area for 20 minutes and then rest. Do this intermittently for the next 2 days until you see an improvement. Don't apply warm compress on the swelling. Use warm pressure for stiff backs and shoulders only.
A good massage is another way to ease pain. Massages stimulate blood flow and release the tension that your dog may be experiencing. Brushing out his hair also relaxes him and furthermore, allows you an opportunity to inspect his body for mites, tumors or open wounds that can cause infection. Apply soothing Aloe Vera on painful cuts and burns for relief.
Never give your dog medications that are strictly for humans only. Even mild prescription drugs like Aspirin and Tylenol have properties that are too strong for canines and will bring them harm when used even in small amounts consistently. Ask an expert for appropriate canine medications that can be given that is specific to what your dog is currently experiencing.
The efficacy of the dog pain relief treatment is measured by the loving care of the master who administers it. Dog illnesses may come but if you do your best and show your dog consistent love and care, you won't need to worry much- a happy dog is a healthy dog.
Comments
No comments made yet. Be the first to submit a comment