2 minutes reading time
(390 words)
Dog first aid kits
Find all about dog first aid kits and how they can help your hurt dog. Millions of dogs die each year from injuries or illness as opposed to old age. There is no doubt that having dog first aid kits on hand can help to potentially safe the life of your pet. A lot of dog deaths could be avoided if the dog owner has some knowledge of what should be done and what first aid should be administered.
Here are some of the basic rules if your dog becomes injured. Stay calm first, because getting upset and nervous does not help anyone. Take a look at the injury gently, because if you treat them roughly, they are likely to bite you out of instinct from defending themselves. Make sure the dog is breathing by looking at their chest for movement.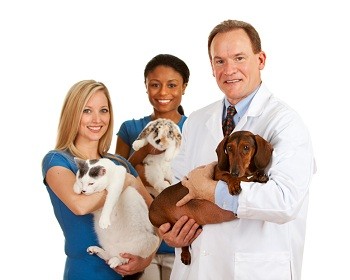 If the dog is not breathing, then check if something is blocking their airway. If there is an obstruction, then remove it. If the dog is bleeding, then apply pressure to the wound with some of the gauze in your first aid kit, so you get the bleeding stopped and they will not bleed out and die.
Because of that, if you have a hurt dog, being prepared for the worst could mean the difference between life and death for your pet and you will want to have all the tools on hand that are needed. Just remember that your canine will react differently than a human when injured, and can become scared and confused, leading to some unpredictable behavior.
Some of the basic things needed in your dog first aid kit should contain:
strips of clean cloth that can be used for a makeshift muzzle and secure bandages
tackle box type waterproof container
first-aid adhesive tape
sterile gauze pads (3" x 3"; and 2" x 2")
gauze bandage rolls (1" and 2") (used to cover wound and for stopping bleeding)
tweezers (for removing splinters)
scissors
eyewash (flush out contaminants)
dog aspirin
anitdiarrheal medication such as Pet Pectate
gentle sedative like rescue Remedy
Gatorade or Pedialyte because injured dogs will not like food
latex gloves
leash
thin rope
splint materials
Cotton swabs (clean out wound)
small bottle of 3% hydrogen peroxide (to induce vomiting if they have ingested poisonous substances and clean out wounds)
antibacterial ointment (apply to wound)
Comments
No comments made yet. Be the first to submit a comment