2 minutes reading time
(410 words)
Four useful tips in selecting the best dog kennel for your pet
It is necessary for you to provide the best possible comfort and security all in one point. As for your canine pets, a suitable environment would be greatly appreciated by your dog, may it be inside or outside your own homes.
If you intend to place kennels at backyards, safe housings are best recommended by neighborhood associations, as well as fenced backyards.
If you do provide the secured and safe kind of kennel for your pet, you are sure to have a happy and safe canine, away from troubles and danger especially at night.
Tip #1: Location of kennels
Setting up a dog cage outdoors would be quite different from setting up a dog kennel inside your homes.
Indoor kennels are made to be a lot smaller than outdoor kennels, with materials like wires, chain link, and plastics used for manufacturing such item. As for outdoor cages, which are bigger in size, are mostly made out of chain links.
Just keep in mind that you must have prior idea on where to situate your newly purchased kennel at home.
Tip #2: Size of dog housing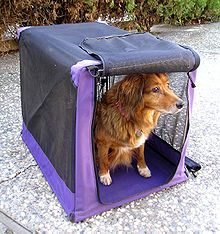 Enough space must be your main requirement when you are choosing a kennel for your dog. Your goal here is to provide the best comfortable cage there is.
For outdoor kennels, these are supposed to provide a bigger space for your pet dog compared to indoor cages. These cages must have enough space for resting as well.
Although smaller in size, indoor kennels must somehow be able to provide the enough space to feel as comfortable as possible. Kennels depends on how much space you have at home, as well as the size of your pet.
Tip #3: Durability of dog kennels
Whatever the size of kennels you choose to have, a durable type would be best above any other type there is. Wires, plastic, and chain links are used to make indoor cages, but most dogs can easily break out with these types of kennels. But if space is an issue, you may think about having plastic kennels for that matter, it's an option too.
Tip 4: Best for comfort
Proper shelter is a great defence for pet dogs when it comes to changing weathers; outside kennels usually require having rooftops and sheds.
A cage is more than a box with a pet inside; it is a comfort zone where your canine buddy can live a happy and secured life throughout the years.
Comments
No comments made yet. Be the first to submit a comment