2 minutes reading time
(487 words)
How To Keep Your Disabled Dog Healthy and Happy
Despite all the care and kisses they get, it's normal to be worried about your dog's quality of life, especially if they have a disability of some kind. While mobility and lifespan may vary, that doesn't mean they can't have a good life. If you want to give a little extra care to your pup, let's look at some tips and tricks that will help you keep your disabled dog healthy and happy.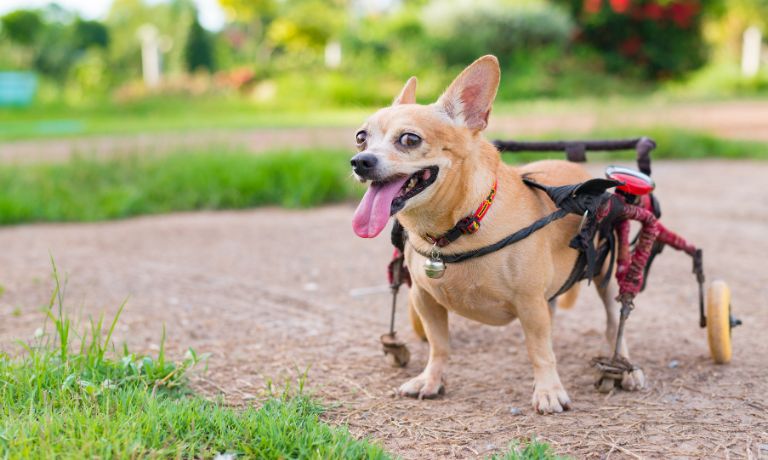 Keep Them Moving
How much movement your dog is capable of depends on what their disability is and how much they can move without assistance. Plenty of accessories for dogs with disabilities exist to help them move more easily, such as wheelchairs or slings. Swimming is another great exercise, especially for dogs with arthritis or mobility issues, and doggy life vests can keep them afloat. If your dog can't move very well, even with assistance, physical therapy is your best bet. However, if your dog can't move on their own, move them at least every four to six hours to prevent tissue damage and circulation issues.
Exercise Their Mind
Enrichment is important for disabled dogs as well. Interactive toys stuffed with treats are fantastic, but extra calories aren't suitable for every dog. Generally, all dogs love having jobs, especially breeds like Australian shepherds, cattle dogs, and border collies. Teaching them to move around the house, retrieve certain items, or simply train them to speak or shake does wonders. Training your dog and giving them a job, no matter how small, can vastly improve their quality of life.
Make Sure They're Eating Well
Health and strength look different for disabled dogs, but talking with your veterinarian can help you take stock of what your dog needs to be the healthiest version of themselves. Aside from exercise and medication, a specific diet with certain levels of fat, carbs, protein, vitamins, and minerals may be necessary. Giving them extra treats and table scraps may be tempting because you feel bad for them. However, staying in their breed's ideal weight range is in their best interest, especially if they have mobility issues.
Help With Their Hygiene
For some dogs, cleaning themselves and going to the bathroom can be difficult to do on their own, so cleaning them often is a must. Sometimes, keeping their hair short and trimmed is easier if they tend to soil it. Brushing them often and bathing them at least once a month can prevent painful matting. Matting can make moving even more difficult and painful for dogs, so grooming sessions are a must if you can't groom them consistently. You can even find a groomer that works with disabled pets.
While you can do plenty to keep your disabled dog happy and healthy, it's important to keep your expectations in the range of what they're capable of. When you're both on the same page, giving them a full life becomes much easier.
Comments
No comments made yet. Be the first to submit a comment