3 minutes reading time
(507 words)
Information on dog weight loss
D
og weight loss for the overweight dog can mean the difference of living a long happy healthy life or living an unhealthy life that is cut short. Obese dogs will normally experience additional health problems. Studies suggest that 40 percent of American dogs are overweight and could benefit from a weight loss program.
Dogs that lose weight suddenly should be taken to the local vet for a checkup and testing. If a dog rapidly loses weight and nothing has changed in the dog's diet or exercise routine it could be a sign of a serious underlying problem. A few reasons why a dog could lose weight rapidly are: parasite, hormonal imbalances, or an undetected medical condition. Dogs that are overweight could have multiple complications, such as: increased blood pressure, hepatic lipidosis, and dystocia.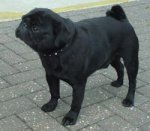 If the dog is given a clean bill of health from the veterinarian then it is time to put the dog on a healthy weight reduction program. There are several weight reduction programs available, however, it seems the most important thing an owner can do is cut back on the amount of food the dog is given. Make sure to look at what the recommended food intake for your dog, age, breed, and size, are the most important factors to keep in mind.
One noticeable sign that a dog is overweight is by running your hands over the dog's rib cage. If you are unable to feel the ribs, that is a sign that your dog is overweight. Another way to tell if a dog is overweight is by looking at the waistline. If the dog's waistline is not visible it could be a sign that the dog would benefit from losing a few pounds.
Owners typically play a big role in their dogs weight gain. One common misunderstanding is that a dog will stop eating when it is full, this is false. Dogs will continue to eat even when they are not hungry. Ask your local vet how much your dog should eat and how many times a day. Pet owners should also reserve treats for special occasions.
Play time equals weight loss for dogs. Owners should remember that if their dog has been inactive for a long time that they will need to start out slow and build endurance. This can be accomplished by steadily increasing activities on a weekly or bi weekly basis. Walking is always an easy way to get dogs back into a healthy routine.
If a dog starts to lose weight too rapidly then the owner should consult with their vet. If the animal starts to shed or patches of hair fall out then the owner should consider a different weight reduction program. A daily vitamin might also help as well.
Dog weight loss will take a fair amount of time and energy on the owner's part. If more than one person is in regular contact with the dog, the weight loss plan should be discussed. This way the owner's efforts will not be interfered or prolonged.
Comments
No comments made yet. Be the first to submit a comment