2 minutes reading time
(469 words)
Pooch to 5k - Excerise for your dog & you!
If you own a dog and you are interested in improving their overall health and temperament, then you should consider taking your canine companion along on your next run. Running with your dog provides them with the exercise they need to remain healthy both mentally and physically. Unfortunately, many dog owners think that they can achieve these goals by simply taking their dog for a walk. The truth is that walking does not provide enough exercise for most breeds. Pooch to 5K (http://www.poochto5k.com) was developed to address the growing epidemic of unhealthy and overweight dogs.
What is Pooch to 5K?
Pooch to 5K is a 12 week training program that is designed to gradually increase your dog's endurance to the point where they are able to comfortably run 5 km with you on a regular basis.
Who is Pooch to 5K?
The Pooch to 5K program was developed by husband and wife team Francis and Audrey Harvey. Francis is an accredited athletics coach and also has years of experience in dog training. Not only that but he is an avid trail runner as well.
Audrey also has a wealth of knowledge in preventive health care, obesity management and behavioral therapy for dogs thanks to 20 years of experience as a veterinarian in small animal practice.
Benefits of Pooch to 5K
While running a 5K may seem to be too hard for you and your dog, most dogs and owners are well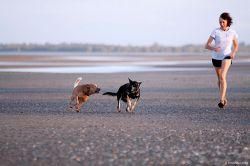 and truly capable of it. The true benefit of the Pooch to 5K program isn't just being able to run 5km, but rather the health benefits that come with the regular running training. It has been proven time and again that regular exercise can help to prevent or minimize common health problems that dogs face including obesity, joint pain and heart disease.
Aside from the physical benefits, regular exercise also improves your dog's temperament by giving them a healthy outlet for all of their excess energy which, if left un-channeled, can result in aggressive and destructive behavior. Not only will addressing these issues lead to a longer, healthier life and a better relationship with you, their owner.
The benefits don't stop there though. Your dog will help to motivate you to get out and improve your own health too! In fact, one local dog owner that is only half way through the program has already lost 12kg, and her dog is looking very toned as well!
If you want to ensure the health and happiness of your dog, and get a little exercise of your own, you should definitely check out the Pooch to 5K program. Dogs really do make the best running partners and they will turn your exercise sessions into a fun and rewarding experience.
Comments
No comments made yet. Be the first to submit a comment