3 minutes reading time
(577 words)
Readying your home for your new dog or puppy - the basics
Before you bring the new puppy or dog home, you have to be sure you have everything you need. Do not wait until the last minute to purchase the necessary items. Put together a list of the basics. Head off to the nearest shopping mall or pet supply store. If you do it well in advance, you will be able to talk to the store clerks and to compare prices. You will also be able to spend time familiarizing yourself with all the necessary supplies.
You will need to purchase several items to make your dog comfortable and content while he or she makes your home, their new home. These range from bedding to wardrobe. There are food and grooming items. Be sure you go through the following list to ensure you at least cover the basic requirements.
Making your house the dog's home
Your pet will need somewhere to sleep. You have a number of different choices. Some place the puppy in a cardboard box. They add snuggly blankets and a hot water bottle. Others allow the mature or young do on the bed. This is a personal call.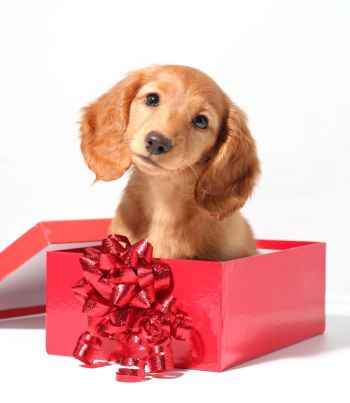 Nevertheless, you may want to give the new member of the family some place they can call their own. This may be a soft basket bed or bedding material inside a crate. A crate and/or a bed offer your dog or puppy a safe and secure place to snuggle in when they feel the need.
Besides a bed, you will need to be sure your yard is secure. If you live in an apartment with a small open balcony, be sure it is pet proof. If you have neither, make sure you have a designated exercise area outside the building. You will need somewhere for your friend to pee and poop as well as train and have fun.
Your dog or puppy may have accidents. To keep your part of the home clean and free from odors, be sure to purchase some cleaners. Avoid anything with ammonium. There are special enzymatic cleaners for urine removal. Some people use a combination of vinegar and baking soda.
Wardrobe
You cannot let your dog run naked outside your home. This does not mean dressing any pet up in clothing. A dog is not a fashion accessory. You may want to provide him other with a coat for warmth and dog socks or booties to protect their paws in winter. At the very least, you need a collar.
There are many collars from which to choose. Select one suitable for your dog's coat. Make sure you add the right bling – ID tags and those proving it has had its basic shots. Do not leave home without them attached. While your dog may sport tattoo or have a microchip, a tag ID is still the most visible and recognizable form of identification. Be sure the collar is compatible with your breed and your leash.
You might want a collar for everyday wear and a separate one for training. Instead of a training or walking collar, you can opt for a haltie (gentle leader). Another option is a harness. The decision is yours to make. It depends upon your preference, your abilities and the character and qualities of your dog.
Conclusion
Enjoy your new bundle of joy!  They will bring you many years of excitement, love and friendship.  In return you must also provide live and protection for your new best friend!
Comments
No comments made yet. Be the first to submit a comment