2 minutes reading time
(390 words)
Running With Your Dog: Top Tips and Tricks
Many people enjoy running with their dogs for several reasons. It can help you stay motivated, alleviate excess energy in your pup, and bond with your dog. Dogs don't understand how to run with their owners right away. It can take some training and help from you to get your furry family member on track. These tips will help you run safely with your dog.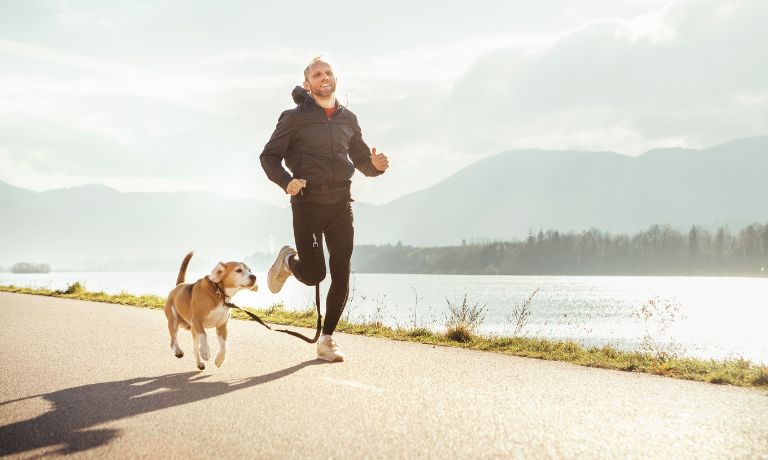 Start Slow
If your dog has trouble walking nicely on a leash, it will have a more challenging time running with you. Teach your pup proper leash behavior to ensure smooth sailing while you both run. You don't need your furry friend pulling you along while you attempt to catch your breath.
Start with slow jogs and work up to a pace that's comfortable for you both. You should also invest in a harness rather than using a traditional collar. Pulling your dog's leash can harm your pup, and you'll have better control.
Practice changing directions, slowing down, speeding up, and stopping. It all comes down to the safety of you and your dog.
Keep Your Dog on One Side
Keeping your dog on one side of you while you run will help prevent trips, falls, and other serious injuries. Train them to stay on one side with positive reinforcement and training exercises. Once you feel confident, take them for a small jog.
Pay Attention to the Weather
If you don't feel comfortable running outside on a 96-degree day, your dog probably won't enjoy it either. The weather affects your pup, and you have to pay attention. Invest in dog booties to help protect their paws from the chilly weather and hot pavement.
If you don't mind running in the rain, purchase a raincoat for your furry friend so they don't get drenched. Avoid running on hot, humid days and in frigid temperatures.
Bring Enough Water for Everyone
Hydration is key for every type of exercise. When you go out for a run with your dog, you must bring enough liquid for both of you. There are collapsible bowls and bottles on the market that make it easier for your pup to drink.
Running with your dog is an excellent way to stay motivated and bond with your pup. These tips will help you and your furry friend stay safe and enjoy the exercise.
Comments
No comments made yet. Be the first to submit a comment