4 minutes reading time
(812 words)
Tips for creating your dog's dream backyard
Moving from an apartment to a big family house is a great experience. You'll finally be able to relax in your backyard, enjoying the sun and fresh air. There are so many possibilities for setting it up. You can plant some trees and get beautiful shade during summer days. On the other hand, you can go with your own organic garden, so you could provide your family with some healthy vegetables.
At the end, your backyard can also be the playground and living space for your best friend. Yes, your dog will finally have enough space to run and play. Feel free to follow the tips below if you want to set up the backyard for your pet.
Set up the fence
Your first task after you decide to organize the backyard so your dog can enjoy it, is to install the fence. Try to avoid hard and heavy materials. You should go with bushes and creeping vines. Those will improve the aesthetics of the whole backyard and provide a safe environment for your dog and kids. This step shouldn't be skipped since safety should be your number one priority. Your pet will be happy to play in the natural environment. If you have time and resources, you may finish the fence with a few viewing bubbles which can be a great place to look around.
Decide upon marking posts
Your dog will need a place to mark his territory while he's out. There are two options available when it comes to setting up marking posts. First, you can allow your dog to choose those spots by himself, or you can put in some effort and build them with large stones and encourage your pet to use them on daily basis. Dogs are pretty smart so there shouldn't be any trouble before the training is over. Once your dog establishes his marking areas, he will feel more confident and relaxed in new territory.
Create place for digging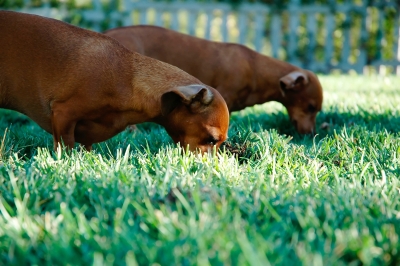 Dogs must dig, so don't yell at your buddy while doing that forbidden activity. Instead of being nervous, and run after him all the time, you should go ahead and set up the special digging area. You'll need some sand or similar material for the purpose. Let your dog know that this is the place for digging by putting his favorite toys or bone in the ground. That way, your dog will know the right place to dig and your organic garden will remain protected. On the other hand, you may try by installing eco-friendly artificial grass, which will discourage your pet to dig in the first place.
Block the sun
Nobody likes to be exposed to the sunlight for too long, nor is your dog. Because of that, do everything you can to provide enough shade over your backyard, and especially above your dog's house. Too much sun isn't good for people and the same goes for animals. They may get dehydrated, experience a heat stroke or get dangerous sunburns. The best way of protection are trees, but they'll need more than few years to be fully grown, so you can use some tarps instead.
Clean the backyard
You may think that there isn't enough space for your dog's house and all other stuff he needs. That's probably not true, so you should try to clean and reorganize your backyard before setting up a new home for your pet. If there are some heavy items you don't need at the moment, you can rent a storage unit from a company that provides affordable storage units, and pack everything in it. The storage will be placed in a remote location so you wouldn't have to worry about your stuff. After that effort, your backyard will open up and you'll have plenty of new space for your dog's needs.
Make safe and accessible paths
Your dog will love to wander around the backyard, so you should think about his safety and comfort. When setting up paths in your garden, make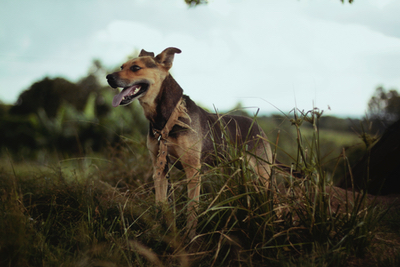 sure they are from materials that will stay cool so your pet can roam freely and safely. The best materials for this purpose are pebbles, bricks, smooths rocks, and even concrete. In case you have toddlers around the house, make sure to avoid using really small rocks while working on paths. Do your best to make a place where your children and pets can play and move comfortably.
Final thoughts
There are so much more you can do for your best friend. You may try by building a few tunnels around the backyard or dig a watering hole. Your dog will appreciate it during the summer. If you have some extra cash in your budget, you may invest in a beautiful doggy fountain so your pet will have access to fresh water at any time. Get creative and transfer your backyard into a doggy paradise.
Comments
No comments made yet. Be the first to submit a comment