2 minutes reading time
(444 words)
What To Do When Your Dog Tears Their ACL
One of the most common injuries dogs can suffer from is a torn anterior cruciate ligament (ACL). Dogs can tear their ACL when they stretch out their knee joints too far.
Depending on the severity of the injury, this could lead to short-term pain or a chronic condition. With this in mind, here's what to do when your dog tears their ACL.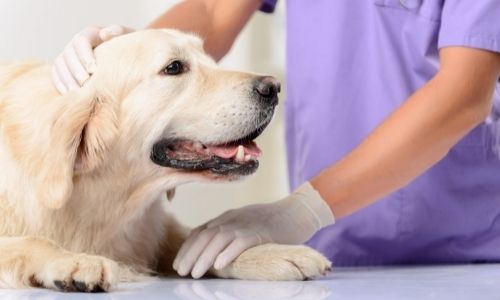 Recognize the Symptoms of a Torn ACL
If your dog is suffering from pain due to a torn ACL, you will probably notice a change in its usual behavior. For instance, your dog might be less active than usual or will limp with the leg experiencing pain. They might lick their knee to try to relieve the pain on their own.
Some other things to look out for are if your dog sits with their leg out instead of in, the appearance of swelling or puffiness near your dog's knee, or you hear a clicking sound when your dog walks. Whether your dog has a torn ACL or not, seeing them limp should cause concern.
Make Things Easier for Them at Home
When your dog suffers from a torn ACL, mobility will be more challenging. Luckily, you can make things easier for your pup by following a few simple steps.
To help them recuperate, make sure your dog has a comfortable bed and gets plenty of rest. Keep their food and water bowls nearby so they don't have to walk too far. It will probably take a couple of weeks for the tear to heal, so make sure you and your dog are patient enough to allow the healing process.
If your dog likes to roam around the house, use gates to keep them from walking too much on their injured leg. Use ramps to help your dog with their mobility getting into the car or on top of furniture.
Seek Medical Treatment
You should take your dog to the vet for a diagnosis as soon as they start exhibiting symptoms of a torn ACL. The vet will be able to give your dog a proper physical examination to determine the location and severity of the injury.
The vet might recommend tibial plateau leveling osteotomy (TPLO) surgery, which reconfigures the ligaments in your dog's knee. If you aren't sure what to expect after a dog's TPLO surgery, there are plenty of resources online to bring you up to speed.
It can be scary and stressful when your dog suffers an injury. However, now that you know what to do when your dog tears their ACL, you can help your dog get better quickly should it ever have to deal with this issue.
Comments
No comments made yet. Be the first to submit a comment