3 minutes reading time
(541 words)
3 Important tips towards natural dog food
Natural dog food is the best choice for your pet dog. Dog owners usually like to feed their pet dog with dry dog food. However, before you decide to purchase a particular brand of dog food, check the ingredients listed on the pack. Not all dog food brands use high quality natural ingredients. So, carefully select your dog food stuff. There are certain guidelines that you need to follow while deciding to purchase natural dog food. The tips are as follows:
1) Avoid Preservative and artificial colors:
Usually natural dog food does not contain any preservative, artificial colors and flavors. If such food components are consumed, it will spoil the dog's health, in the long run. Also, avoid dog food that contains "Chemical additives".
2) Check the color of the food stuff:
Dog food that consist of natural ingredients, are usually of soft earth tones types. If the food stuff is in red or green in color, it means that some type of additives are being used. This should be avoided.
3) Check the type of meat used: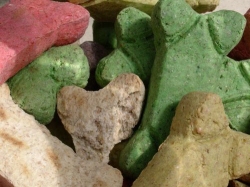 The right way of feeding your dog is with raw dog food. It is considered to me the healthiest type of food. The right set of dog food will usually consist of 40% meat, 30% fiber and 30% starch. You can also include some source of vegetable and starch along with the uncooked meat that you have decided to give to your dog.
Never feed your dog with generic fats or proteins like "animal fat" or meat meal. You can look for named sources such as chicken fat, beef fat or lamb meal. Food stuff that contains generic terms is usually of very poor quality food. Your dog's over health depends upon the ingredients that your dog food contains. Hence, it is important to feed your dog with dog foods that contain the right ingredients. The list of ingredients that are mentioned on the dog food packet is listed in percentage form. The top most ingredients will have the highest percentage in terms of food content. So, be aware of each ingredient while you are purchasing the required dog food.
Your dog food should contain real meat or vegetables as the main ingredients. Foods that contain meat meal should be avoided. Meat meal may contain substances of chicken meat, fish meal and other types of meat meal. However, one cannot guarantee what part of the animal might be used as part of the dog food ingredients. Hence, it is better to stay away from dog food that contains meat meals as ingredients. You must also not select foods that contain chemicals as an ingredient. It is difficult to find commercial foods that do not have chemicals as preservatives or coloring. The best option is to go for natural dog food.
In order to find good quality dog food, you must do your own research. If you want your dog to remain healthy all the time, you must feed him natural and organic dog food. Avoid using meat meal. Start using only real foods that your dog will benefit from. Your top priority towards your dog should be to find an all natural dog food that is pure and contains organic mats and vegetables.
Comments
No comments made yet. Be the first to submit a comment