2 minutes reading time
(499 words)
Dog food recipes for a healthier dog
M
any of the dog food recipes found on the Internet look good, but they often don't have the nutritional requirements for your dog. It has been proven that a homemade dog food diet can help your dog live up to 8.3 years longer, but before you use a dog food recipe there are things you need to learn.
The proper amount of Proteins, Fats, Carbohydrates, Minerals, Vitamins and Water are all the basic nutrients needed for a healthy dog. The key is you need to learn to feed your dog a balanced diet that includes the nutrients listed above.
The facts are every dog's needs are different and commercially made dog food can't meet the needs of every dog with their current approach to dog food recipes.
With home made dog food recipes you can tailor the dog food recipe to the age, breed and current health of your dog. You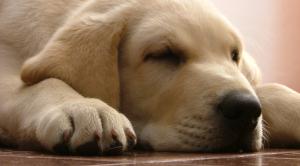 make enough to last a week or two and by freezing it you beat the need for preservatives.
I have listed a few of the dog food recipes we use, but you should take the time to learn how to select a recipe that is best for your dog.
Labrador Loaf 1 cup Amaranth 1 cup Dates --dried 1 cup boiling water -- or beef broth 2 cups whole wheat flour 2 teaspoons baking powder --non aluminum sulfate 2 tablespoons canola oil 4 ounces Egg Beaters 99% egg substitute 2 cups beef broth 1/2 pound ground beef, extra lean Put Amaranth and Dates in a bowl, pour boiling water over and allow to soak 30 minutes. Preheat oven to 350. In a large bowl, mix egg beaters and canola oil and beef broth and beef, mix well. Add whole wheat flour and baking soda, and the soaked Amaranth and Dates. Mix well. Pour into an oiled loaf pan, bake for 1 hour or till done. *Note: Use Vegetable Broth and 1/2 Pound of Textured Vegetable Protein for a Vegetarian Diet
Chow Stew 1 tablespoon olive oil 2 pounds beef --*see Note 2 cups cabbage -- chopped 3 cloves garlic -- minced, up to 4 18 ounces canned sweet potatoes -- drained and chopped 14 1/2 ounces canned tomato wedges -- undrained 1 1/2 cups tomato juice 3/4 cup apple juice 1 teaspoon ginger root --up to 2, grated 2 cups green beans, frozen -- cut crosswise 1/3 cup peanut butter 6 cups cooked brown rice Heat the oil in a large skillet over medium-high heat. Cook Beef, Add the cabbage and garlic; cook, stirring, until the cabbage is tender-crisp, about 5 minutes. Stir in the sweet potatoes, tomatoes, tomato juice, apple juice, ginger. Reduce the heat to medium-low; cover. Simmer until hot and bubbling, about 6 minutes. Stir in the green beans and simmer, uncovered, for 5 minutes. Stir in the peanut butter until well-blended and hot, about 1 minute. Spoon over rice. *Note: Low Fat, or use chicken, lamb, fish. Liver can be used as well.
Comments
No comments made yet. Be the first to submit a comment