3 minutes reading time
(514 words)
How to make fantastic home-made dog food
More and more people today are realizing the benefits of using home made dog food for their pets nutritional requirements. When planned carefully, this alternative is healthier and can be pretty economical for the average dog owner. Read on to find some important points to keep in mind in how to make dog food the proper way.
1. Always consult your veterinarian about your dog, especially when it comes to diet. Your dog may be one with special nutritional requirements or be allergic to certain kinds of food groups. Find out your canines present condition and make the necessary preparations in regard to their food plan.
2. Study the food that are dangerous to canines. Not everybody knows that chocolates are dangerous when ingested by dogs. You need to learn about this so that you can keep the toxic food locked away where your pet can't reach them. Some of these include onion, caffeine, grapes, baby food, macadamia nuts, mushrooms and citrus oil.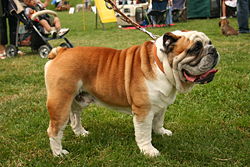 3. There are several who will recommend serving animal food that are raw and as close to their natural form as possible; however, for safety reasons it is best to cook all served meals as thoroughly as possible to avoid any potential infections. You can store the cook the doggie meals in advance and store them in the refrigerator for around 3 days.
4. Feed the canine the appropriate amount of starch, meats and vegetable. Many recommend a 50% starch, 25% meat and the remaining 25% for vegetable ratio; with some fruits thrown in as a healthy treat. You will need to find out what mix will work best for your dog. Potato and rice are good sources of starch for the dog. Almost all kinds of meat are acceptable for feeding. Keep in mind though that liver and other organ meat will be unsafe if used too much. Tomatoes, carrots, peas and green beans are excellent additions to the canines meal.
5. Pets have different lifestyles they adhere to. Usually it's because of breed or as brought upon by their owners own way of life. As such, you will need to determine what the appropriate portion sized meals to give your dogs is. The more active canines would need high protein, frequent meals; and some will have to be monitored carefully because of weight and health issues. Check with your vet regarding this matter.
6. When transitioning the dog from store bought pet food to home made dog food, make sure that you do this slowly. Feed the canine the new dishes little by little and decrease his regular pet food gradually. If there is no adverse reaction to the new food, increase the home made fare until it becomes his standard meal.
Switch up the dishes and menu every once in a while. This will ensure that your canine will get the nutrients and vitamins he needs; as well as keep his attention and interest. Sometimes it is somewhat of a challenge to learn how to make dog food, but in the end, it is well worth the effort.
Comments
No comments made yet. Be the first to submit a comment