3 minutes reading time
(598 words)
In home dog training checklist
Have you ever gone home to see your puppy make your whole living room his personal fire hydrant? How about leaving for work trying to cover the freshly gnawed side of your shoe? Do you have friends who took rabies shots before deciding to ever visit you again? If this is you then it might be time to call in dog training experts into your abode.
There are a number of pet owners who want to train their own pets. Unfortunately, due to lack of know-how and time, they dont get around doing much about this. If this is you, do not fret; in home dog training is an excellent alternative way to watch your dogs progress in the privacy in your own home. Sounds good? Well, before you call up that dog trainer, there are a few things you might want to ask first.
How high up the obedience ladder is your dog? If your pet knows the basic commands down, then you should consider training him yourself. The owner is always the best person to teach his own. However, if you really don't know the first thing about dog training or have no chance to do so, then have the professionals take a look at what can be done to Fido as soon as possible.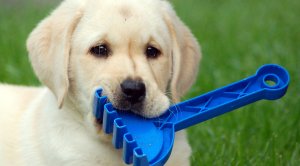 Where can I look for the excellent trainers? The good trainers are known by the dogs they have handled. Ask your family,friends, or neighbors if they have had experience with these professionals. Search through the internet and yellow pages for the services of a company or individual that comes highly recommended by canine organizations or blogs and forums. Inquire on their fees and set an appointment with one that seems to give you the best value for your dollars.

What makes a good trainer? The most important thing you need to check in a trainer is his manner of handling the dog. Violence, yelling, or force of any kind should not be tolerated regardless the reasons he may have. Feel free to ask for personal records and referrals he has to you can check it yourself. There are no official government licenses for animal training to date; however, most of these professionals have graduated from courses that will equip them in the career path they've chosen. One of the best qualifications they can have is the International Association of Canine Professionals' CDT or CDTA certification.

Should I enroll him in individual or group classes? Naturally, if you can afford it a one-on-one session between dog and trainer will help the animal learn faster because he has the full attention of the trainer. However, if you have enrolled him in a group class"it can work out well also. Your pet will have a chance to develop his social skills"an important aspect of dog training as a whole. An experienced professional can effectively customize his teaching to suit each dogs educational need. If you do opt for group classes, form one with dogs that you know are well taken cared of. These canines will be playing and roughing it out with each other often and you want to avoid any situation where fleas and infections can take place.

When should the training commence? As soon as possible! It is best to train puppies while they are still 8 weeks old. However, with patience and perseverance, even dogs can learn obedience commands at any age. If you are ready and your dog is present then anything is possible. Through in home dog training, a well trained dog is not only possible, it is expected.
Comments
No comments made yet. Be the first to submit a comment