2 minutes reading time
(367 words)
The best Beagle puppy training tips
Beagle puppy training is something that every new owner should do as soon as they bring their new dog home. Many people may feel intimidated by trying to train their own pet but it does not have to be difficult. Despite the fact that this breed has been around for close to 200 years, your puppy still depends on you to give it to the proper training that it needs. Here are some essential tips to help you get the most out of your Beagle puppy training sessions.
First of all, whenever you attempt to do any training at all, make sure you do it in an area where there are not a lot of distractions. Beagles for some reason tend to have trouble focusing on you if there are other moving dogs or people in the room.
Second of all, you should try and keep the training periods short. Most experts recommend sessions of no longer than 15 minutes. If you do want to train longer, simply break it up into short periods throughout the day.
Lastly, try and get your whole family involved in your new pet's training. It's very important that whoever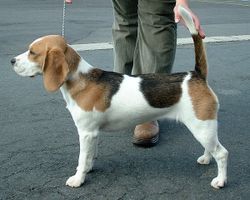 lives in the house takes part in training the dog.
You should involve your children in the training because it helps make sure that the dog knows that they are dominant over it. And not the other way around. If the dog feels that they are dominant over little children they could be in harm's way.
While you are fully capable of properly training your new pet, sometimes you need a little extra help. Luckily, there are many resources that can help you.
Bookstores and libraries are one of the best resources to learn about Beagle puppy training. These places often tend to have specific books just on how to train Beagles. Professional dog trainers is another place that many people turn to for help. These people can help you to train your pet in the shortest amount of time possible.
Whether you choose to learn from a book, or a professional trainer, beagle puppy training should be done properly. I urge you to find the resources you need to do a great job.
Comments
No comments made yet. Be the first to submit a comment