3 minutes reading time
(694 words)
Take Your Dog on an Australian Adventure
Australia is a magnificent country. It is rich in stunning landscapes, pristine beaches, rainforest, and diverse wildlife. There is something for everyone in the land down under. And it is well known that travelling with your family means happiness, great memories, and bonding. Of course, our dogs are our family, too. It should go without saying. So, let's see how and where you could take your pooch on an Australian adventure!
Prepare well
You need to know a few things before embarking on a journey with your best friend. Firstly, you need to make sure that your dog is always hydrated. Pack a few bottles of water, and bring a bowl if possible. Secondly, if the surface you are walking is hot or quite rough, consider buying booties for your pooch's paws. Dogs absorb heat through their paws, and they become too soft. When the paws get soft, they are more likely to get injured (cuts, bruises etc.). Also, beware of snakes and other poisonous animals, ticks and fleas, and dingos. Australia is a country with diverse wildlife, although it is beautiful and attractive in its own way, you need to be careful. So, make sure that food, clean water, treats, first aid kit, brush (for tick checks), and a leash make their way to your bag. Those are absolutely essential.
Pet-friendly destinations
It is true that options can be limited due to the fact that you're taking your dog with you when it comes to the variety of places and sights you two could see. However, there are plenty of dog-friendly accommodations, so don't worry. Aussies value their pets, and you'll have no trouble finding great dog friendly caravan parks, camps and cabins. So, let's see where the two of you could go.
Ballina Beach Village, South Ballina
This cute little secluded piece of heaven is perfect for you and your dog. There are vast spaces, great beaches, and perfect accommodation. Head there with your pooch and enjoy the Lighthouse beach, or walk the Ballina Historic Waterfront Trail. You'll love the peace and quiet this place has to offer. This region is also characterized by amazing bio-diversity, friendly locals and, of course, the laid back lifestyle which is great if you two want to have a relaxing holiday.
Goolawah Regional Park, New South Wales
This place is a great dog-friendly campground surrounded by miles of sheltered leash-free dog beaches. It is equipped with picnic tables, an amenity block, and barbecue facilities where you can do some cooking for your best friend and yourself. This campground is all about the quality time spent with your best friend.
Great Otway National Park, Southern Victoria
Australia is well known for its beautiful rainforests, and just along the Great Ocean Road you'll find the Otways. The Otways are home to the most beautiful rainforest scenery of Australia. You could enjoy the scene with your doggo, head to the beach, walk around the national park, or go camping around the lake! There is a myriad of options and the choice is all yours. Oh, and your dog's, too.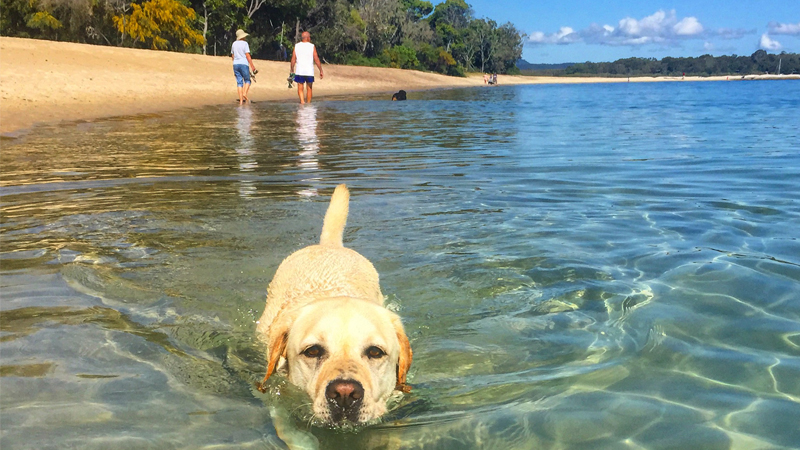 The Split is a quite unique sandy isthmus that stretches from Main Beach all the way to the seaway where Broadwater meets the Pacific. This place is a popular location for fishing, swimming, and relaxing. Indeed, you could enjoy all that with your dog, too, since there is a 3 to 4 km open area at your pet's disposal. You two could run, play and do whatever you like.
Margaret River, Western Australia
Margaret River is a small town south of Perth that is known for its wineries, breweries and surf breaks. Many of the beaches, campsites, wineries and breweries welcome dogs! That's why many dog lovers claim that this place is the absolute best holiday spot to bring your pup. The two of you could do some canoeing, or even learn how to do stand up paddle boarding. Of course, you can do all that together.
Conclusion
As you can see, the Land Down Under has a lot to offer to you and your dog. So, prepare and choose a destination. An adventure is guaranteed!
Comments
No comments made yet. Be the first to submit a comment