3 minutes reading time
(564 words)
How to make your office more pet-friendly
We live in an age of change – a mere couple of decades ago, bringing in pets to work was only acceptable if you were a veterinarian or working at a pet shelter. Nowadays, however, an increasing number of companies are more and more tolerant when it comes to this matter. Nonetheless, in order to avoid troubles and issues, an office has to become pet-friendly, for both your pet's sake and your own.
Responsibility
Just to be clear, the fact that an office is pet-friendly doesn't mean that troubles won't ensue. Just as it's the case in one's home, and the outside, the owners are the ones who are ultimately responsible for their pets. If you are in charge of a pet-friendly office, make sure you advise your employees of their pet responsibilities. Come up with fliers that dictate the rules of a pet-friendly office and make them visible at all times. If trouble ensues, always focus on reminding the employees who is responsible for their pet.
Allergies
Although a pet-friendly office can be a stress free environment for the workers, as well as inspire morale, you need to make your office space friendly for your employees first, and pets later.
This issue is best resolved by coming up with "pet-free" zones. There should be no animals inside these zones.
Keep in mind, though, that workers who suffer from pet allergies will have to encounter parts of the office where pets roam free, so, in order to provide as much convenience as possible for those afflicted with allergies, make sure you sanitize floors and surfaces regularly. Additionally, you can invest in carpet cleaning professional help which is convenient, efficient and able to quickly clean everything from dog feces to cat hair.
Conditions of Bringing Pets in
Although you are aiming at a pet-friendly office, you need to clearly outline the conditions under which pets are allowed.
If an employee wants to bring in a pet to a workplace, they need to have them trained. Pets who enter an office should in no way disturb other employees and be aggressive towards them, or other pets.
An animal who often chews on, or scratches the furniture should not be allowed in an office.
As we mentioned, the owner should ultimately be responsible for their pet and, should an animal damage other employees' property, the owner is to reimburse them to the full extent.
Come up With Safe Areas for Pets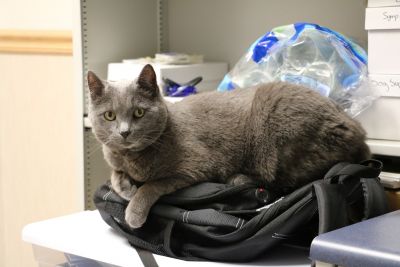 Although pets should be allowed an occasional walk around the office, they are to be contained within an outlined area, equipped with child-proof safety paraphernalia.
Owners should also bring in their pet's bed, favorite toy, blanket, as well as food, treats and dishes.
It is a good idea to equip a pet-friendly area with a pet vending machine, just in case an owner forgets to bring their own pet food to work. This will help maintain the employee's productivity, since they won't have to leave work to go buy their pet some food at a local (sometimes not so local) pet store.
Making an office pet-friendly is a noble cause. However, without being exceptionally careful and dedicated to pleasing all of your employees, you are risking to have a lot of issues. If you follow the advice outlined above, however, you are looking at a less stressful, high-morale, productive working atmosphere.
Image sources:
https://pixabay.com/en/dog-cat-animals-friend-animal-pet-624952/
https://pixabay.com/en/cat-gray-cat-old-cat-feline-1099134/
https://pixabay.com/en/dog-dachshund-looking-portrait-1416483/
Comments
No comments made yet. Be the first to submit a comment