2 minutes reading time
(414 words)
A touching way to remember
What your furry companion leaves behind is a legacy of unconditional love. Deciding how to pay tribute to your pet's life can be overwhelming. For those struggling with what to do comes an unmatched alternative that combines the respectable option of an urn with the accentuated beauty of an original, distinguished plaster portrait making the final resting place as unique as the love you shared.
Gretchen's Creations LLC provides a patent pending 3-dimensional plaster portrait of your pet with the option of ash cremain embedment into the plaster portrait. Gretchen Kiefer, sole artist and owner of Gretchen's Creations LLC, feels her service, "offers the grieving pet owner a discreet, and dignified way of memorializing". Whereas most fine art discourages touch, Gretchen's artwork encourages the opportunity to "touch" the portrait helping keep the joyful memories alive.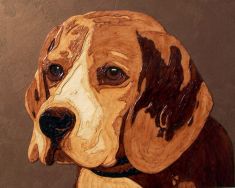 Gretchen handcrafts each portrait based a personal photograph of your pet. After a photograph has been chosen the process begins. First, a lime-based plaster background is created. This foundation is then covered with multiple layers of synthetic, water-based plaster. Your pet's ashes are mixed into the first layer of plaster. The remaining layers are manipulated and accentuated using artist tools, colorants, and sealant with each layer of plaster requiring at least 12 hours of dry time. The completed piece is then shipped to your desired address. Gretchen's Creations LLC offers a 100% satisfaction guarantee.
If this idea seems foreign it is. Gretchen's ash-embedded artwork is the only one of it's kind using this medium.
Gretchen's journey has been heavily influenced by an inspiring woman, her mother. Gretchen reveals, "My mother taught children who were blind to experience life through touch which has led to my ongoing appreciation of texture". Although Gretchen lost her mom and best friend too soon in June 2006 her giving spirit lives within her. Gretchen describes her work as an opportunity to help people heal and begin to enjoy the memories again stating, "My hope is one's hand is drawn to my art before the eye and after the heart".
Gretchen also offers the same style portraits for those pets that are still full of life as the ash cremains are optional and not required for the completed piece. Regarding her work, "I take great pride in what I do especially if in the process I can help people heal". For complete information including a video on how 'Jade's' memorial portrait was created please visit www.gretchenscreations.com.
Gretchen's Creations LLC:
"A Touching Way to Remember"
Related Posts
Comments
No comments made yet. Be the first to submit a comment
By accepting you will be accessing a service provided by a third-party external to https://www.barkleyandpaws.com/