2 minutes reading time
(317 words)
Buy a cat scratching post for a happy pet
Every pet lover wants to own a happy pet and cat owners are no exception. One way to achieve this is to provide them with a cat scratching post. These are suitable for cats of all ages, from old seniors to young kittens, and will provide hours of entertainment for them.
They are usually used inside the home and are an ideal way to encourage a cat to have some form of exercise. As well as a means of sharpening those essential claws they can also exercise the paws, too. Cat owners discover that these products are a good way to protect their carpets, drapes and furniture from being scratched.
There is a huge variety of them available. Simple, single ones are cheap and usually provide some kind of furry creature in the shape of a mouse attached to a piece of rope. A cat will paw this creature as a form of entertainment. The movement also offers an opportunity for the cat to develop both coordination and agility trying to chase the furry creature around the object.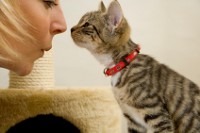 The more complicated versions are more costly but also offer a range of other challenges for your cat. The more elaborate ones are a complete activity center with shelves, tunnels and toys dangling from various levels. A scratching post is included in the center.
The fitted platforms are at different heights and allow a cat to jump up and down. Enclosed tunnels covered with soft material are a comfortable and secure place to sleep. Strong material covers the posts and shelves and will be suitable for exercising those sharp claws.
Some of the elaborate activity centers are fitted with a hammock that is erected between two poles. After exercising the claws a cat can get comfortable in the hammock to snooze. If you choose a cat scratching post you will be certain it will be suitable for your cat.
Related Posts
Comments
No comments made yet. Be the first to submit a comment
By accepting you will be accessing a service provided by a third-party external to https://www.barkleyandpaws.com/