5 minutes reading time
(1097 words)
Top 6 Cat Beds We Recommend for Every Type of Cat Sleeper
According to Sleep.org, cats can sleep between 12 and 16 hours in a day, on average, which is double compared to humans. However, their sleep duration can differ depending on how young or old they are. If you're a cat owner, the thought of purchasing a cat bed would've entered your mind at some point. While studies suggest that most pet owners allow their pets to snuggle up to sleep in their beds at night, it may not be as per your cat's liking. 
Cat beds ensure comfort, protection, support, and a good night's rest, but they can also prove dangerous in case of a flea infestation. Despite using any flea treatment for cats on your pet, it is advisable to thoroughly and repeatedly wash their beds to remove any lingering pests inside the soft bedding. In addition to this, cat owners are recommended to wash regularly, vacuum, and clean all furry surfaces in their house, along with a monthly subscription for a flea and tick medicine treatment to eliminate the issue permanently.  
Here are some pointers to finding the best cat bed. We recommend you keep these tips in mind before purchasing any cat bed:
It should be sized well according to how big/small your cat is.
The quality and construction of the cat bed should be up to the mark.
It is preferred for the bedding to be removable for it to get washed easily.
The material/fabric of the bed is also essential. If it's a natural fabric, such as cotton, then it'll assure your cat's comfort. 
Reviews made by other cat owners will help you get a good feeler about the product before choosing it.
1. Bolster Beds: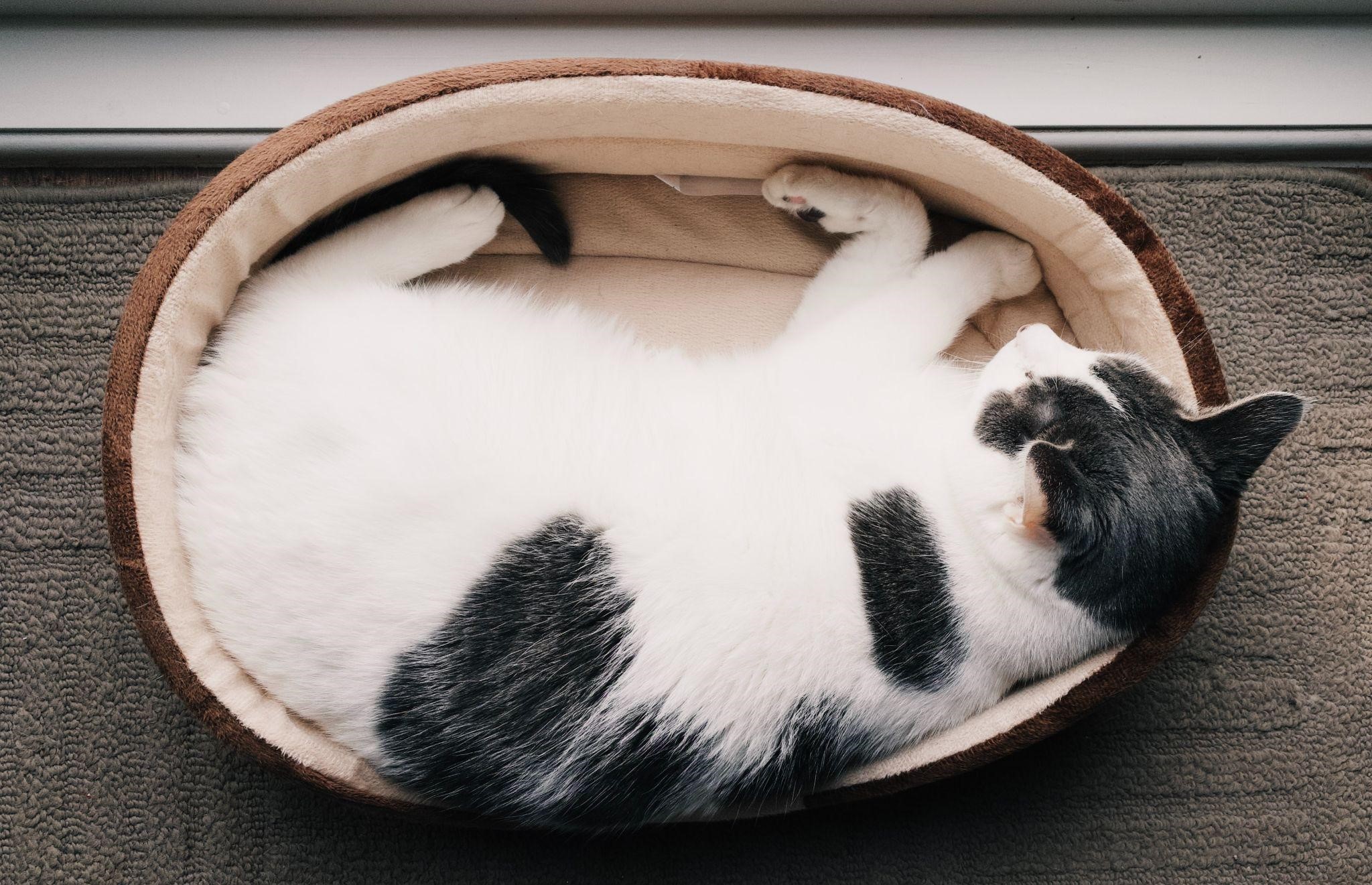 Image Courtesy: Unsplash
If you're unsure about what your cat wants in a bed, then bolster beds might be your safest option. They are designed to cater to a variety of requirements, sleeping habits, and other general likings. It is the perfect option for a cat that loves to curl up and lay down in a corner and is shaped in a circle to provide some extra warmth and coziness. The beds are soft, plush, and well padded and come in a wide range of fillings. It can be made with either fleece, high-fiber polyester, cotton shell, etc., to maximize your cat's comfort and offer them extra support. Moreover, in the case of an elderly cat, it's highly recommended that you consider a heated bed with lower sides and an orthopedic foam to help with their arthritis. 
2. Cave Beds:

 Image Courtesy: Etsy
Cats adore enclosed spaces. They feel safer, well-protected, and relate it with going into hiding. It is also the reason why, many times, cats tuck away beneath our beds, slip into a closet, or choose a location with higher sides to conceal themselves. If your cat sounds alike and is fond of enclosed spaces, then this bed is the ideal pick for you. Cave beds are usually made out of felted wool, which is advantageous for your cats, as they are attracted to its smell, which reminds them of their mothers. During warmer seasons, the wool expands to allow moisture and air to travel within, while in colder seasons, the material traps in natural heat, keeping it toasty warm inside. 
3. Crate Beds:

 Image Courtesy: Notonthehighstreet
A sustainable, economical, and customizable option - crate beds are built to last for a long time. They are designed to be solid, sturdy, easy to clean, and scratch-proof. Cat owners can dedicate a weekend to building their crate beds using high-grade wood. Further, they can stuff it with a memory foam bed that is incredibly plush and supportive for their cats. Out of all beds, this one is the easiest to clean and maintain, which minimizes your effort and time. You may customize the bed according to your cat's needs, based on shape, size, and style, as well as replace the bedding after a while to suit your cat's age requirement. 
4. Cat Trees: 

   Image Courtesy: Unsplash
In the wild, cats are often used to climbing up trees to get a better view or nap away from their predators. Climbing is also a good exercise for indoor cats - it keeps them on their toes, improves their flexibility and strength, and creates an enriched environment. Although to prevent unnecessary damage to your upholstery and fine china, cat parents can bring home a cat tree. Cat trees can get made from various materials, including platforms made of plush carpeting, soft fabric, or faux fur. The tree may also feature hanging jute ropes, scratching mats, carpeted staircases, hammocks, and more to entertain and keep the cat engaged. 
5. Window Cat Perch:  

Image Courtesy: Pexel
As mentioned earlier, cats like to perch or rest at elevated heights. Any surface a few inches above the ground is a safe haven, where they can release their inhibitions. Window perches, made from a soft, durable fabric, are an excellent option for indoor cats that love to explore the outer world or simply appreciate a good view. Although, primarily, when considering a cat perch, cat owners should ensure their cat's safety. Window perches can be a tricky business and possibly, even dangerous for your cats. Especially beware of perches made with suction cups, popularly known as 'cat hammocks.' You should ensure that the window perch you select for your cat can hold its weight, is wide enough to accommodate a large cat, and is well-secured to the window from all sides. 
6. Furry Bed/Mat: 

 Image Courtesy: Unsplash
If your cat loves to knead, massage, and rollover surfaces, we have the ideal bed picked for you. Covered in the softest faux fur, this bed can coax your cat into sweet slumber, allowing them to stretch their limbs out as much as they can. It is ideal for relaxing, cuddling, or snoozing at odd hours of the day and can be integrated well with the rest of your living room furniture. The material is more than delicate and can withstand its form after various rounds in the washing machine. You can select a cushioned mat with heavier stuffing to offer extra support to your elderly cats.
We hope these tips will help you find the best cat bed for your feline friend.  If you have found the one you especially like (or don't like) please share your thoughts in the comment section below.  Your experiences may be very helpful for someone else looking for that perfect cat bed!
Also see this helpful article on how to pick the best cat bed for a picky cat...
Comments
No comments made yet. Be the first to submit a comment