2 minutes reading time
(457 words)
Furry Family: Top Ideas for Designing a Dog-Friendly Home
 Owning a dog comes with many responsibilities, including designing your home in a way that's perfect for your entire household. You may need to increase your cleaning routine and redesign areas of the house. Before welcoming your furry friend through your front door, jot down these top ideas for designing a dog-friendly home.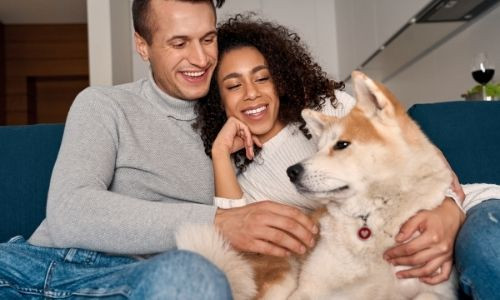 Say Goodbye to Carpeting
As you design a home that a canine can thrive in, almost every seasoned pet owner will advise you to tear out carpeting and install vinyl or ceramic floors. If your pup runs inside with muddy paws, it could leave stains on the carpet. And if you adopt a puppy, potty training will come with the added challenge of scrubbing stains out of your carpets. Vinyl or other forms of hard flooring allow you to skip that frustration altogether.
Pro Pet Tip
If you own or plan to adopt a big dog, you may want to avoid natural wood floors since those large paws could leave scratches. Instead, design your home with laminate or tile floors since these aren't easily damaged.
Create an Indoor and Outdoor Space
One of the top home maintenance tips for pet owners is to dedicate a space for your pup so that it has a secluded area to relax. Some pet owners make this space in the corner of a room, while others create a canine sanctuary in their mudroom, complete with a cozy bed and toys.
Most dogs love exploring the yard, and creating the best outdoor space requires some planning. Before planting flowers, ensure they're dog-friendly since a curious pup may take a nibble. Your yard should also have shady areas where your canine can cool down, especially if you plan to leave it outside for long periods.
Think of Creative Storage Areas
Ample storage space is a must-have in any home, and it makes our list of top ideas for designing a dog-friendly home! You'll need a place to keep your pup's leash, collar, waste bags, and toys. Some breeds need an entire basket packed with different toys, and rather than let these litter your house, find a place to store them. Consider placing your dog's toy basket in the corner of a room while hanging the leash and collar on a hook for easy access.
Pick the Right Colors
Stay away from darker fabrics if you plan to adopt a pup with light-colored fur; instead, shop for furniture and area rugs that match the color of your dog. Doing this helps hide all that fur, keeping your house looking clean. You could also protect your furniture by keeping a comfy throw blanket on the couch. With the right decorating, your home will be the perfect canine sanctuary while also looking as perfect as you'd like.
Comments
No comments made yet. Be the first to submit a comment