3 minutes reading time
(526 words)
Finding the perfect Halloween treat!
We received our Planet Dog "Halloween" special dog toys over the weekend and boy Murphy was not disappointed!  The balls are well made and have a wonderful bounce and spring when thrown in the air or directly on the floor, just perfect for a dog who loves to chase and catch balls like Murphy.  Murphy (our adopted Black Lab mix) is a HUGE fan of chewy or squeaky toys so he is our default tester and judge for all things related to doggy toys!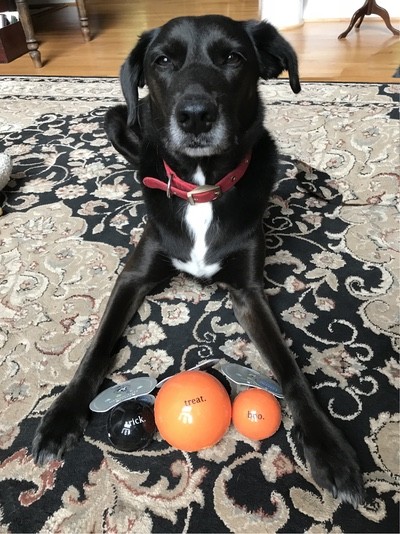 His favorites are the squeaky "tennis" balls but these Orbee-tuff balls just might move to the top of his list!  The "tennis" balls have a felt-like cover to them where the Orbee-tuff balls are smooth and have a rubbery texture.  Murphy loved biting and chewing on them and "guarding" them as his new favorite chew toy!
We found these balls to be very soft so there is no danger of hurting your dog, either if they accidentally get "bonked" by an errant toss or if they just miss a catch and get a bounce in the snout (of course Murphy is a great catcher and would never miss a catch – HAHAHA!!!).
They are designed with two small cut-out holes on opposite ends of the ball and I think this helps make the ball easy to squeeze in your dog's mouth.  Murphy loved playing catch with his and had no trouble making big jumps and air-borne catches with the balls! As a bonus when you toss the balls high in the air they produce a high pitched whirlling noise that your dog may find interesting.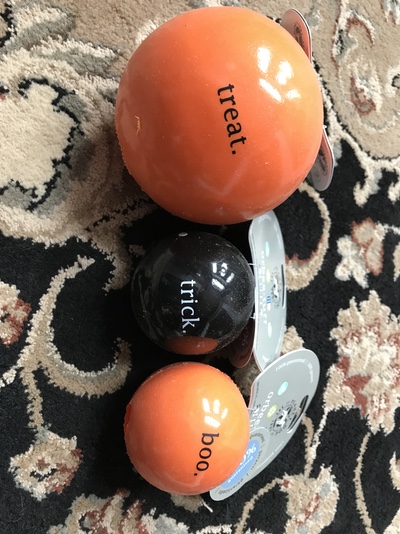 The company, Planet Dog, can be found on the web at www.planetdog.com.  Of course they don't just sell these and other balls, they carry a wonderful variety of dog toys and support the Planet Dog foundation.  Here is information from their website describing this outstanding effort:
Funding the training, placement, and support of dogs helping people in need, the mission of the Planet Dog Foundation is to promote and celebrate programs in which dogs serve their best friends.
You'll be impressed with this company as well as the products they provide.  Their heart is definitely beating for our four legged furry friends and it's wonderful to see a organization driven with a passion like this.
Back to Murphy and his romping with his new toys… you can see from the photos that he enjoyed chewing and playing with them.  I'm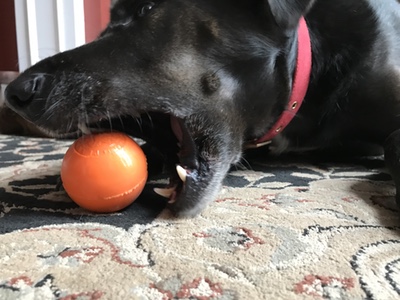 impressed with the quality of the product feel that they are safe for my dog to chew and play with however as a pet owner you should ALWAYS watch what you dog is playing with and carefully inspect it at times.  Every pet product can possibly fail and as a responsible pet owner you should check it.
Here at BarkleyAndPaws we highly indorse these Halloween styled balls and encourage you to check out the Planet Dog website and support their foundation.  This is an outstanding organization and we're glad to have discovered a group so dedicated to dogs and more importantly, helping people in need by marrying the benefits of the unconditional love of dogs with people seeking help and comfort. 
Comments
No comments made yet. Be the first to submit a comment