3 minutes reading time
(501 words)
Pawesome Ways Your Dog Can Enjoy Their Birthday
Every day you get to snuggle with your best friend is fantastic, but your fur baby's birthday requires a celebration! Your dog has been there through it all, from listening to you rant about work to your awkward singing around the house; it's only fitting to make their birthday a big deal. Here are some pawesome ways your dog can enjoy their birthday!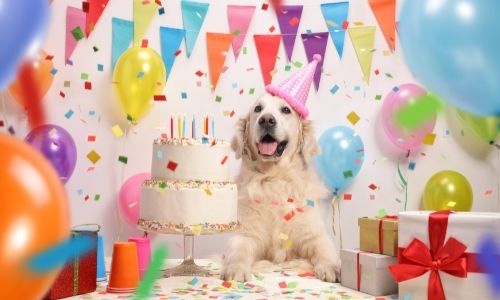 Celebrate at Their Favorite Spot
Invite friends who love your dog and friends with fur babies to have a playdate birthday celebration at your dog's favorite place! If you have a lot of dog friends coming to play, ensure the location you choose has enough space for all of them. If you have enough room in your backyard, that would be the best space for your dog and their friends to celebrate. 
If not, you can throw the birthday bash at:
A nearby park
The beach
A dog-friendly restaurant
Your dog's daycare 
Invite Their Best Buds for Cake and Ice Cream
A birthday isn't properly celebrated without cake and ice cream. While your dog can't enjoy the desserts provided for human participants, you can have cake and ice cream specifically made for your fur baby and their friends. 
Find a bakery or store near you that can make a cake that's safe for canine consumption. If that's not an option, look online for a recipe to make your own dog-safe cake or cupcakes. 
If all else fails, you can celebrate with their favorite snacks and foods. 
Play Their Favorite Games 
As everyone knows, dogs can play all day. Playing their favorite games is a pawesome way your dog can enjoy their birthday! Whether it's a game of fetch, tug of war, or hide and seek, extra playtime with their favorite human is one of the greatest birthday gifts you can give your dog. 
Petflix and Chill
Sometimes your dog wants company, and what's better than cuddling up with your canine companion and watching your favorite shows! Another pawesome way to celebrate your dog is by allowing them to "choose" the movie for their birthday. Some of the best movies to watch with your dog are:
Secret Life of Pets (2016)
Lady and the Tramp (1955)
Bolt (2008)
Hotel for Dogs (2009)
Beethoven (1992)
Create Matching T-Shirts With Your Fur Baby
When throwing a party for your dog, it is always great to have party favors, like matching t-shirts for your dog and guests. When creating your customized T-shirts, find the appropriate fit for your dog to ensure they are comfortable. Your dog will look so cool in their custom tee!
Pro tip: When creating your shirts, the best way to ensure the adhesive design stays in place is by using a hairdryer or heat gun so your design doesn't peel. 
To make their special day even better, you can go above and beyond with a big party or simply spend extra quality time with your fur baby. Either way, celebrating and loving your best friend is all they want and need. 
Comments
No comments made yet. Be the first to submit a comment