2 minutes reading time
(327 words)
Training techniques and tips for Golden Retrievers
O
ne of the most intelligent and elegant dog breed is the Golden Retriever. This breed has not only elegance but the brains to quickly learn new tasks.
Patience should be your guide, never the less, particularly if you are teaching your Goldie that go against your dog's nature, or if he is slow in gaining a new routine.
Basic obedience training is the beginning of everything for it allows you to learn how to communicate with your dog. The leash method of obedience training can have a negative impact on a Goldie's fine temperament, so it is recommended that you use the Rewards Method.
Goldie's respond excellently to positive interaction, so always pet and compliment your dog when he obeys your commands. Using verbal commands are best for Golden Retrievers for they learn them very quickly.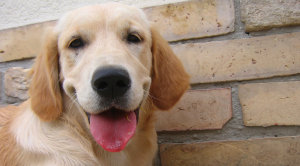 Begin with the basic command of 'sit' and reward your dog for obeying. When he picks up that he will be rewarded for the 'correct' response, he will happily follow your commands. After your Golden Retriever has learned to 'sit', then you can proceed to other commands you want him to learn, such as 'lie down'. And remember, always reward obedience.
The next set of commands will use a leash, but only as a tool to let you animal know further what you want. 'Go' and 'Stop' can be learned with a loose leash for 'go' and a tightened leash for 'stop'. Remember to reward and pet your Goldie for obeying.
Your Golden Retriever will learn best if you teach only one command at a time. And you shouldn't teach the harder commands until the easier ones are mastered. Complicated commands should be taught only after you and your dog are firmly grounded with the basic commands.
You should always go through those commands when you teach a new one, first as reinforcement, and second, to make sure he isn't confusing the new command with one of the older ones.
Comments
No comments made yet. Be the first to submit a comment